7th GPDRR: Jokowi Offers Four Concept to Facing Disaster Risks
Jumat, 27 Mei 2022 - 20:50 WIB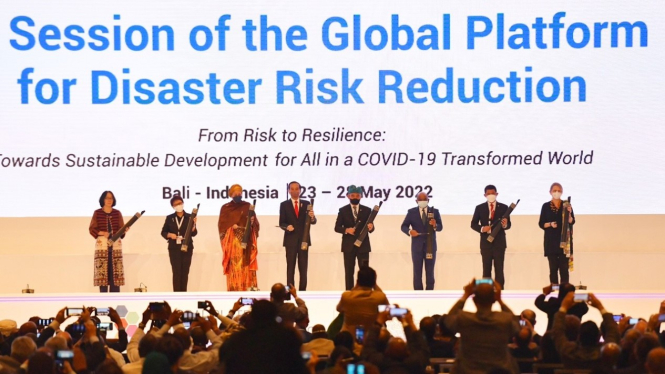 President Jokowi officially inaugurated the 7th GDPRR 2022
VIVA – Indonesian President Joko Widodo or known as Jokowi offers four concepts in dealing with all forms of disaster, such as the COVID-19 pandemic. This was conveyed by President Jokowi through the opening ceremony of the 7th Global Platform for Disaster Risk Reduction (GDPRR) 2022. This event was held in Bali Nusa Dua on Wednesday, May 25, 2022.
The sustainable resilience concept is considered to be a solution to tackle all forms of disasters, including facing a pandemic and supporting the implementation of the Sustainable Development Goals.
"At this Global Platform for Disaster Risk Reduction (GPDRR), the Indonesian Government offers to the world concepts of sustainable resilience to respond to challenges of systemic risks to face all kinds of disaster, including pandemics and to support the implementation of sustainable development at once," Jokowi said.
He said about the need to apply several measures to build sustainable resilience. So, he offers four concepts.
According to the President, first, he emphasized the importance of strengthening a culture and institutions of disaster vigilance that are anticipate, responsive, and adaptive in facing disaster.
"Disaster preparedness education as well as government and social institutions that are synergic and responsive to disasters must be our shared priority," The President said.