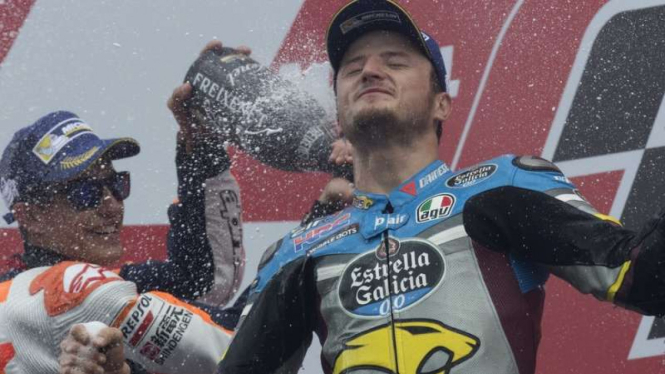 Jack Miller dan Marc Marquez di podium MotoGP Belanda
VIVA – MotoGP, Moto2, Moto3, and MotoE will undergo the Dutch Series at the Assen Circuit, on June 24 to June 26, 2022. The Assen Circuit was the only "venue" to host a Grand Prix every year from the birth of the World Championship in 1949 to 2019 before the 2020 Dutch TT was canceled due to the pandemic.
The Assen Circuit was originally 16.54km long before in 1954 it was reduced to 7.7km, and the following year it shrunk again to 6.1km in 1985.
The current track layout has been in use since 2006 with a number of minor modifications. In 2016 the Dutch TT was held on Sunday for the first time since in previous years it was held on Saturday.
The 500cc race on the 1975 Dutch TT was the only premier class Grand Prix race in which the first two riders to cross the finish scored the same time. At that time Barry Sheene and Giacomo Agostini finished the race so tightly that the timekeeper at the time, still using a manual clock with an accuracy of 0.1 seconds, could not determine who finished first.
Yamaha's last victory at the Dutch TT was presented by Fabio Quartararo in 2012. Yamaha have 11 trophies at Assen through their five riders: Valentino Rossi, Jorge Lorenzo, Ben Spies, Maverick Vinales and Fabio Quartararo.
While Honda last celebrated the top podium at Assen through Marc Marquez in 2018 from pole. Honda has seven MotoGP wins in the Netherlands through Valentino Rossi, Sete Gibernau, Nicky Hayden, Casey Stoner, Marc Marquez and Jack Miller.
One Ducati win at Assen was achieved by Casey Stoner from pole in 2008. Stoner also took the podium from 2007 to 2010. Other podiums for the Borgo Panigale were P2 Andre Dovizioso (2014), P3 Scott Redding (2016), and P2 Danilo Petrucci (2017).