Indonesian National Police Must Ready to Face Three Heavy Tasks
Selasa, 5 Juli 2022 - 17:50 WIB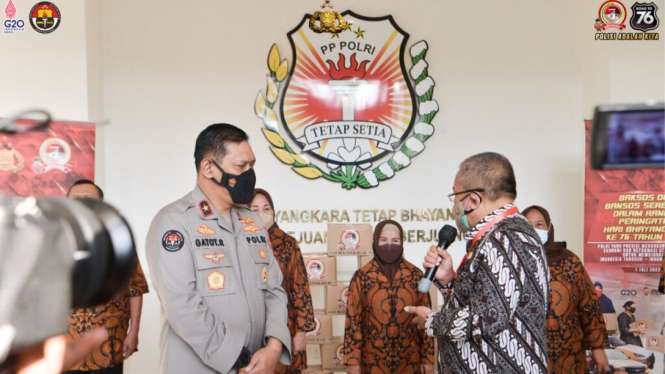 Polri melakukan kegiatan bakti sosial dalam peringatan HUT Bhayangkara ke-76.
VIVA – The commemoration of the 76th Anniversary of Bhayangkara which was held on Tuesday, July 5, 2022 was led directly by the President of the Republic of Indonesia, Joko Widodo and became the inspector of ceremonies. In his speech, Jokowi said that the National Police must be ready to face three heavy tasks, such as COVID-19, Global Crisis Threats, and Crime Based Technology.
This event took place at the Police Academy Campus in Semarang, Central Java.
Jokowi conveyed that the first task that the Police had to face was that the Indonesian National Police still had to continue to work hard with the government in handling COVID-19. It is because the COVID-19 virus has not completely disappeared from Indonesia.
"We still have a lot of heavy tasks to do together. First, the COVID-19 pandemic still needs serious handling. I ask the Police to always be on standby in dealing with COVID-19," President Joko Widodo said in Semarang, Central Java.
In addition, Indonesia and a number of countries in the world are facing global uncertainty and the threat of a crisis. Therefore, the Indonesian National Police must be able to maintain security and public order. So, Indonesia is able to face the challenges.
"Second, we must be alert to global uncertainties, energy crises, food crises, and financial crises. Therefore, the Indonesian National Police must ensure security and security so that we are stronger in facing these challenges," President Joko Widodo said.