Indonesian Contingent Confirmed for 2022 ASEAN Para Games
Selasa, 26 Juli 2022 - 13:08 WIB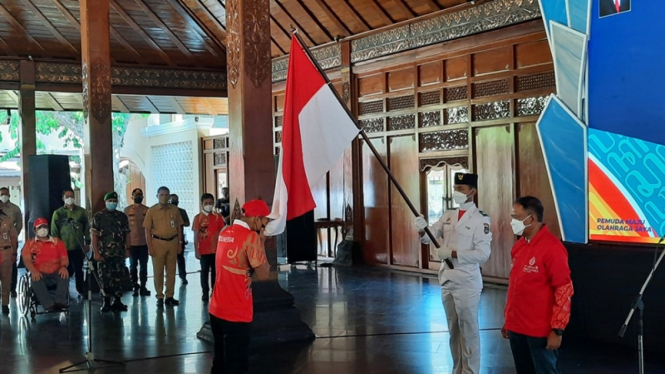 Pengukuhan kontingen Indonesia di ASEAN Para Games 2022
VIVA – Minister of Youth and Sports (Menpora), Zainudin Amali confirmed the Indonesian contingent that will compete at the 2022 ASEAN Para Games in Solo. A total of 324 contingent inauguration of athletes carried out at Solo City Hall on Monday, July 25, 2022.
In the inauguration, there was a procession of kissing the red and white flag symbolically. The representative of the athlete who started kissing the Red and White flag, Suryo Nugroho, was followed by Ni Nengah Widiasih.
Chief de Mission, Andi Herman said the inaugurated Indonesian contingent consisted of 324 athletes, 14 managers, 83 coaches, 72 support staff, and several others such as psychologists and doctors.
Indonesia as the host of the 2022 ASEAN Para Games is ready to participate in this prestigious event. Indonesia will participate in 14 sports, including athletics, sitting volleyball, blind judo, wheelchair tennis, wheelchair basketball, goalball, CP football, archery, boccia, table tennis, swimming, weightlifting.
"The target of the Indonesian contingent in the implementation of the ASEAN Para Games XI 2022 is to become the overall champion with a minimum of 104 gold medals," Andi Herman remarked.
Currently, all athletes are in good health and ready to compete to achieve optimal results in the sporting events for athletes with disabilities throughout Southeast Asia.