East Java Team Wins at the 2022 Indonesian Aquatic Festival
Senin, 1 Agustus 2022 - 18:12 WIB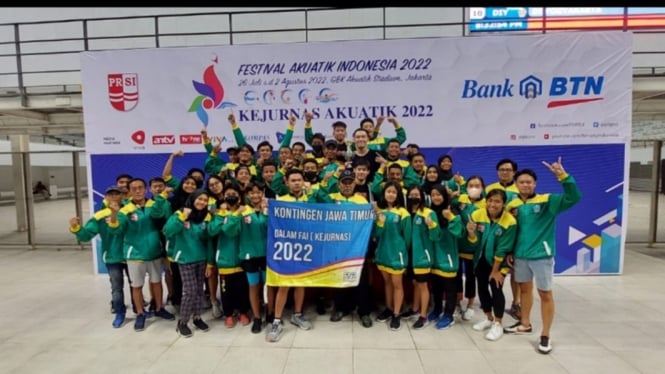 Kontingen renang Jawa Timur di Festival Akuatik Indonesia 2022.
VIVA – The East Java contingent managed to become the grand champion in the National Aquatic Championships titled FAI 2022 or the Indonesian Aquatic Festival at the Gelora Bung Karno Aquatic Stadium. On the fourth day Friday, July 29, 2022, East Java added eight gold medals and a total of 32 gold,16 silver and 21 bronze medals.
Meanwhile, the DKI Jakarta Team was in second place with 29 gold, 30 silver and 32 bronze medals. In third place was the West Java contingent with 18 gold, 32 silver and 31 bronze medals.
Then, Bali was ranked fourth by collecting 17 gold, 27 silver and 16 bronze medals. In 5th place, Banten got 13 gold, 5 silver and 5 bronze medals. Furthermore, Central Java won 13 gold, 4 silver and 15 bronze medals.
On the fourth day, two national records were created, namely I Nyoman Gede Yajamana in the age group 3 (12-13 years) in the 50-meter men's butterfly stroke with a record of 26.99 seconds.
Meanwhile, Kenny Lisan Putera set the old record of 27.17 in Semarang 2010.
Then, Ibrahim Faqih in the age group 2 (14-15 years) in the men's 50-meter butterfly with a time of 25.89 seconds. Sharpen his own record of 26.06 seconds in 2022.
Here's a list of the best at the 2022 Indonesian Aquatic Festival National Championship:
Men's best swimmer:
1. Aflah Fadlan Prawira (Senior) – West Java
2. Alvino Dika Wijaya (Group-1) – Central Java
3. Ibrahim Faqih (Group-2) – DKI Jakarta
4. I Nyoman Gede Yajamana (Group-3) – Bali
Woman's best swimmer:
1. Ressa Kania Dewi (senior) – East Java
2. Adelia (Group-1) – West Java
3. Ni Putu Pande Lisa Primasari (Group-2) – DKI Jakarta
4. Ni Kadek Rena Kartika (Group-3) Bali