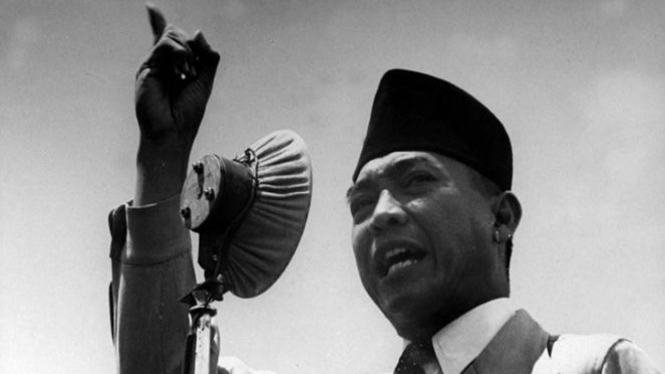 Pidato presiden Soekarno.
VIVA – All Indonesian people know Soekarno or known as Bung Karno as one of the Indonesian heroes who played an important role in helping the Indonesian state to become independent.
Soekarno has a dashing, brave, and confident appearance. Soekarno tried to help the Indonesian people who were colonized by other countries for years.
Some Indonesian people believe that Soekarno has a connection with magical things. In addition to having heirlooms, Soekarno was also known to perform special rituals in various places that produce positive energy to form great power.
Reported from several sources, here's a magic secret that is believed to be possessed by Soekarno to avoid danger.
1. Tirakat
Soekarno was known to take a long time to get supernatural powers. He often performed Tirakat. Tirakat is a person's spiritual effort in the form of concern for the soul and body, this Soekarno did to prevent the murder of himself.
2. Stick Commander
Bung Karno's magic in fighting the invaders also came from the commando stick he often carried when attending various events. It was said that the commander's wand is magical. The commander's wand comes from pucangkalang wood which has magical energy.
3. Ajian Lembu Sekilan
Many said, Soekarno's magic also came from the spell of the Lembu sekilan. This practice can avoid the danger that will occur. In the past, the regent of Gajah Mada was owned by the regent of the bull.
Ajian Lembu sekilan can also save Bung Karno from death because he often wanted to be killed by several people and eventually escaped death.
4. Yellow Wesi Heirlooms
Yellow Wesi heirlooms as big as sticks were often put in Soekarno's pocket. It was known, the yellow wesi heirloom can make Bung Karno immune to weapons. 
In addition, the yellow wesi heirloom was owned by Minak Jinggo who attacked the Majapahit kingdom.
 5. Puputan Kris
According to several sources, the source of Bung Karno's supernatural powers also came from the kris left by Puputan. The kris was received from Soekarno's mother, who still has Balinese bloodline.
The kris left by Puputan can protect Soekarno from all kinds of danger. However, according to Bung Karno, he does not believe in such things, he has a dagger because he admires Indonesian handicrafts that are already rare.