Sandiaga Uno Visits Kampong Melayu BML Pontianak Tourism Village
Selasa, 9 Agustus 2022 - 10:52 WIB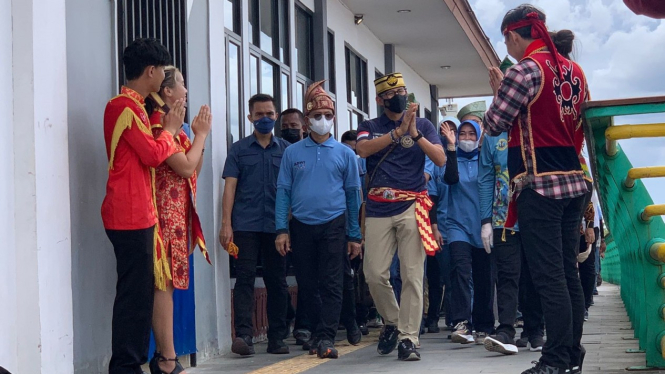 Kemenparekraf Sandiaa Uno
VIVA – Minister of Tourism and Creative Economy, Sandiaga Salahuddin Uno visited the Kampong Melayu BML Tourism Village in Pontianak City, West Kalimantan, some time ago. The Tourism Village has fulfilled the assessment standards of the ADWI 2022 jury team.
When arrived, Sandiaga Uno was immediately greeted by the doorstop tradition, martial arts action, and the tradition of sowing yellow rice. The reception for Sandiaga Uno was led by local religious leaders. The Governor of West Kalimantan, Sutarmidji and the Mayor of Pontianak Edi Rusdi Kamtono also accompanied Sandiaga Uno.
Not only that, Sandiaga Uno also follows the rhythm of the Jepen Dance. Jepen Dance is a traditional dance that represents the dynamic, attractive and energetic Malay culture.
In his speech, Sandiaga Uno hoped for the continuation of the government's baton. So, the developments in West Kalimantan could be continued and improved.
"For who? For society. We believe that with togetherness, we will build tourism and creative economy and congratulations on the BML Kampong Melayu Tourism Village," Sandiaga Uno remarked.
Sandiaga Uno revealed the results of his dialogue with local people who have a canoe rental service business in a tourist village.