First Time, Indonesian Polo Team Wins the World Competition
Kamis, 11 Agustus 2022 - 15:44 WIB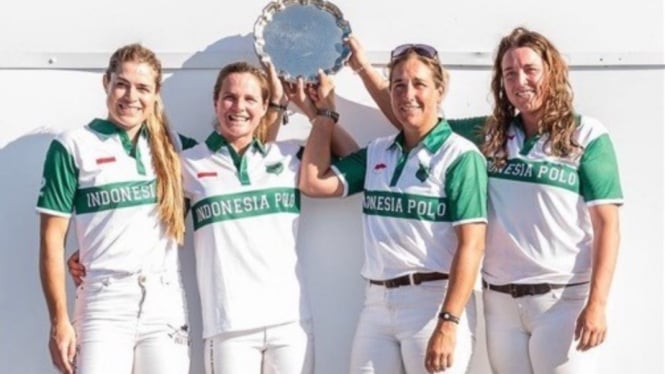 Tim Indonesia Polo menang kompetisi tingkat dunia
VIVA – For the first time in history, the polo team won the equestrian competition between teams from various countries. The name of the Polo team that recorded its history was named Indonesia Polo.
The Indonesian Polo team was founded because of the collaboration between the Polo Commission, the Central Board of the Indonesian Equestrian Sports Association (PP Pordasi), and the Semper Anticus Polo Team, a polo team belonging to a polo lover from Indonesia, Clarinda Tjian Dharmadi.
The team is made up of Sarah Wiseman, Heloise Wilson-Smith, Lottie Lamacroft, and Bryony Tailor. They achieved an achievement after winning the Subsidiary Final against the Claremont Family Open in a competition called the Cirencester Ladies Open which was held at Cirencester Park Polo Club, England on August 7, 2022.
"For the first time in history, a team belonging to the Indonesian nation won a competition between teams at the world level. yesterday," PP Pordasi Secretary General Adinda Yuanita said. 
The chairman of the PP Pordasi Polo Commission, Boedi Susetio Soendaryo Priatman also expressed his happiness for the achievements given by the Indonesian team.
"Alhamdulillah, the polo team that carries the Indonesian flag has succeeded in making great history through one achievement at the world team championship. Of course, this will greatly motivate the development of Polo in the country to produce champion athletes," Boedi Susetio remarked.
After that, the General Chair of PP Pordasi, Triwatty Marciano, expressed his appreciation to Clarinda Tjian who had the initiative with the PP Pordasi Polo Commission to form a Polo team called 'Indonesia Polo' while promoting Indonesia.
It is also acknowledged that this method can motivate Polo lovers in the country to get to know and explore Polo riding.
"Alhamdulillah, the collaboration of the PP Pordasi Polo Commission and the Semper Anticus Polo Team has succeeded in making a proud achievement, the first achievement of the Indonesian polo team in a world-class competition between teams. Thanks to all parties involved. Let's develop Indonesian Polo riding so that we can achieve more," Triwatty Marciano remarked. 
Furthermore, the Chairman of Koni, Marciano Norman, congratulated the Indonesian Polo team for their achievements and hard work.
"Congratulations to the Indonesia Polo team, a team that carries the name of Indonesia for making an achievement. Thank you for the hard work of the athletes, coaches, and PP. Pordasi who have worked hard to develop the sport of polo equestrian in the country. Hopefully, the development of Polo riding in the future will be even better," the General Chair of KONI, Marciano Norman remarked.