Live Streaming Schedule AFF U-16 Cup Final: Indonesia vs Vietnam
Jumat, 12 Agustus 2022 - 11:07 WIB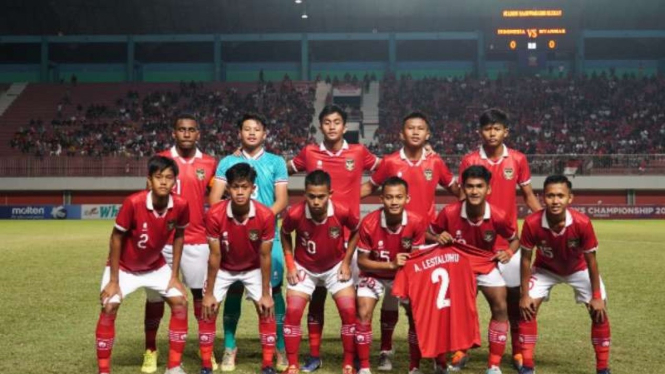 Pemain Timnas Indonesia U-16.
VIVA – The U-16 Indonesian National Team will play against Vietnam in the final match of the AFF U-16 Cup on Friday, August 12, 2022. This final match will take place at the Maguwoharjo Stadium, Sleman.
Indonesia and Vietnam became the two teams that managed to qualify for the 2022 AFF U-16 Cup. Both teams eliminated their rivals in the semifinals.
In the semifinals, Vietnam U-16 first ensured the final ticket after beating Thailand U-16 by two goals without reply.
After that, the U-16 Indonesian National Team managed to get a chance to reach the final after defeating Myanmar. The success was carved through the penalty shootout and won 5-4.
In addition to the live streaming schedule of the U-16 AFF Cup, there is also a continuation match of Liga 1, there's Persik Kediri will play against Borneo FC Samarinda at Brawijaya Stadium, Kediri.
There are also duels from Europe's top leagues that will be held early Saturday. Bundesliga matches, continued LaLiga and Ligue 1.
Here's the complete schedule of live streaming football today until tomorrow morning.
On Friday, August 12, 2022
League 1:
at 4.30 pm - Persik Kediri vs Borneo FC Samarinda on Indosiar
AFF U-16 Cup:
At 3.30 - Thailand vs Myanmar on Vidio
At 8 pm - Indonesia vs Vietnam on Indosiar
On Saturday morning, August 13, 2022
Bundesliga:
At 1.30 am - Freiburg vs Borussia Dortmund on Mola TV
La Liga:
At 2 am - Osasuna vs Sevilla on beIN Sports 3
Ligue 1
At 2 am - Nantes vs Lille on beIN Sports 1