Indonesia Para Badminton International 2022 Held in Yogyakarta
Jumat, 12 Agustus 2022 - 12:31 WIB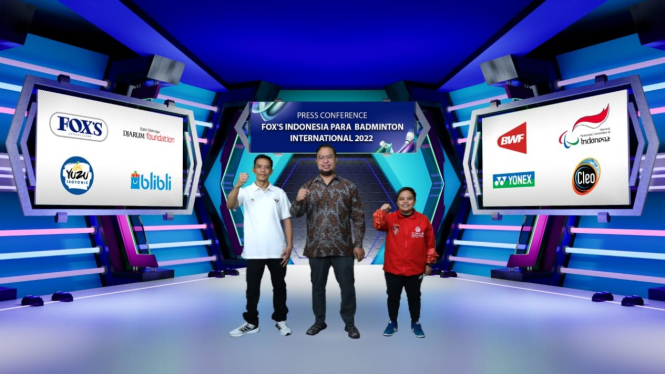 Konferensi pers Indonesia Para Badminton International 2022
VIVA – Indonesia will host the world-level championship, namely FOX'S Indonesia Para Badminton International 2022. The tournament entered by BWF Para Badminton International Grade 2 Level 3 will be held at GOR Among Rogo, Yogyakarta on August, 23 to 28, 2022.
So far, there have been 71 participants from 11 countries who have confirmed that they will perform, including Indonesia, Malaysia, Singapore, Australia, Sri Lanka, Peru, Poland, Azerbaijan, New Zealand, Japan, and India.
This number can still increase over time considering that this tournament has only started in about 12 days.
Group Brand Head of PT Savoria Kreasi Rasa, Vanessa Ingrid Pamela said that the implementation of FOX'S Indonesia Para-Badminton International 2022 is expected to be an arena for badminton athletes to hone their abilities and potential and gain achievements for Indonesia.
"Through the Fox's Indonesia Para Badminton International 2022 championship, we feel proud to be a part of developing the potential and achievements of athletes who are true heroes in the sport," Vanessa said in a press conference session held virtually, Thursday 11 August 2022.
"In the tournament, we carry the theme #SparkleYourEnergy with the hope that the athletes will be able to show their shining achievements. In addition, we want the fighting spirit of the athletes to be an inspiration in conquering all limitations and challenges as well as providing motivation for others," Vanessa added.
The implementation of the Indonesia Para Badminton International 2022 is also supported by the Bakti Sport Djarum Foundation. Yoppy Rosimin as Program Director of the Djarum Foundation's Bakti Sports said the tournament was a step to raise the image and pride of badminton athletes at the world level.
"Badminton is a sport that has won many achievements in various international championships. We also want to make them have pride as badminton athletes who make the nation proud, especially through quality tournaments such as the Indonesia Para Badminton International 2022," Yoppy explained.
For information, the last time the Indonesia Para Badminton International was held in 2016 was in Solo, Central Java. Therefore, the Deputy Secretary General of the Indonesian National Paralympic Committee (NPC), Rima Ferdianto, expressed his appreciation for the support of all sponsors to bring back the world-level badminton tournament to the country.
This is because not many companies, especially in the private sector, are involved in organizing disability sports championships.
"It must be admitted, not many companies are willing to sponsor disability sports championships. This is why the international badminton championships have been suspended for six years," Rima said.
Rima continued, Indonesia Para Badminton International 2022 will be proof for the badminton squad in Indonesia after winning various international titles and also coming out as overall champion in the 2022 ASEAN Para Games.
"Our target in Yogyakarta later is the overall champion, the same as the target in APG 2022 yesterday. For that, we will include some athletes who have succeeded in gaining achievements to secure the winnings later," Rima remarked.
One of the athletes of the 2022 ASEAN Para Games, Ukun Rukaendi also said that he will play in Indonesia Para Badminton and praised that this prestigious match will be held in Indonesia.
"When it was held in Solo six years ago, I played and got pretty good results. So, in Yogya later I will also try to perform optimally. Moreover, this is the status of playing at home, the responsibilities and targets are higher. So, I have to prepare my best," Ukun Rukaendi remarked.