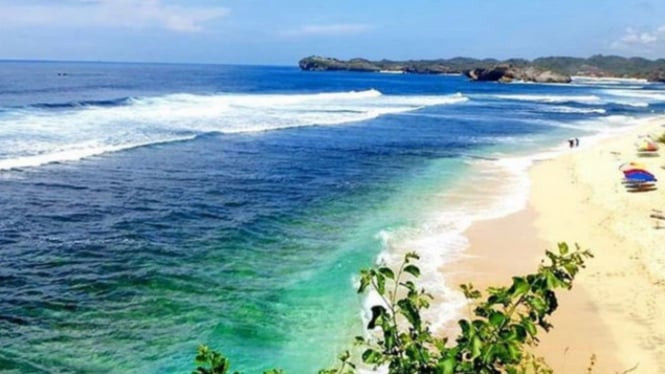 Pantai Indrayanti, Gunungkidul, Yogyakarta.
VIVA – Yogyakarta is known as a city with a variety of tourism, such as history, culinary, nature, and others. Beach tourism is a favorite place for tourists to spend holidays and weekends.
As known, as many as 60 beaches are scattered in the Yogyakarta area. There are many activities that tourists can do when visiting beautiful beaches in Yogyakarta, such as having dinner at a beachside café, enjoy the sunset, swimming, and surfing.
Well, here are some exotic and memorable beaches for tourists.
1. Glagah Beach
Glagah Beach is located in Glagah Village, Temon District, Kulon Progo Regency. This beach has limitless beauty. At Glagah beach, visitors can enjoy the expanse of waves, and use ATV ir trail bike to explore this beach.
The facilities available at Glagah Beach are complete, such as toilets, prayer rooms, places to relax, and many more. Visitors also can buy interesting Kulon Progo souvenirs.
2. Indrayanti Beach
Indrayanti Beach is quite famous and a favorite for tourists. The location of this beach in Tepus Village, Gunungkidul, Yogyakarta. At Indrayanti Beach, visitors can enjoy the beauty of sunset and sunrise.
Not only that, but visitors can also try various culinary delights and relax in the gazebos available along the beach. For the ticket price, visitors should pay ten thousand rupiahs for each person.
3. Nglambor Beach
Nglambor Beach has beautiful beaches. So, it becomes an attraction for visitors. This beach is located in Purwodadi, Tepus, Gunung Kidul. This beach allows visitors to snorkel.
On this beach, there are snorkeling equipment rentals. Visitors can enjoy the underwater beauty through snorkeling.
To enter Nglambor Beach, visitors have to pay six thousand rupiahs for each person. In addition, visitors also have to pay for parking of two thousand rupiahs for motorbikes and five thousand rupiahs for parking cars. The price for renting snorkeling equipment is also affordable, around Rp50,000 to Rp100,000 for each person.
4. Baron Beach
Baron Beach has beautiful scenery and can provide peace for visitors. This beach is located in Rejisari Village, Tanjungsari District, Yogyakarta. Although the route is quite difficult, this will be paid off with the charm that is presented by Baron beach.
The atmosphere on this beach is very crowded because many visitors and local fishermen work in the sea. This beach is a favorite place for tourists to take pictures.
For the price of the entrance ticket, visitors will be charged a fee of ten thousand rupiahs. This ticket price includes access to two other beaches, such as Krakal beach and Kukup beach.
5. Siung Beach
Siung Beach has the best long cliff spots. Siung Beach is located in Purwodadi Village, Tepus District, Gunungkidul Regency, Yogyakarta. This beach allows visitors for camping. The camping area is located to the east of the beach.
The price of admission to this beach is still affordable. Visitors must pay a ticket of ten thousand rupiahs for each person. This price includes the retribution price for Jogan Beach and Nglambor beach. For operational hours, this beach is open 24 hours a day.
6. Jogan Beach
Jogan Beach is commonly referred to as a twin of California's McWay Waterfall because it has a waterfall. This Jogan beach waterfall has the nickname bridal waterfall. It is said that if someone bathes under the waterfall, they can quickly find a mate.
For entering this Jogan beach, visitors have to pay ten thousand rupiahs for each person. For visitors who want to enjoy the waterfalls on Jogan beach, it's a good idea to visit during the rainy season. Because in the dry season, the water from the upper falls will not be much and there may even be no water.
At Jogan beach, visitors will be spoiled by two natural beauties at once, namely a stretch of beach surrounded by beautiful cliffs with waves crashing from the Indian Ocean and the sound of rushing waterfalls.
Well, that's the review of the amazing Yogyakarta beach and a must-visit. Obey the rules and keep the environment clean. Please, obey the rule of health protocols, too.
The Singapore Icon to Undergo Repair Works Until December
The Singapore Tourism Board has announced that the main Merlion statue at Merlion Park will be undergoing repair work from September 25 to December 13, 2023.