List of Sacred Forests in the World, Contain Scary Stories
Minggu, 11 September 2022 - 10:04 WIB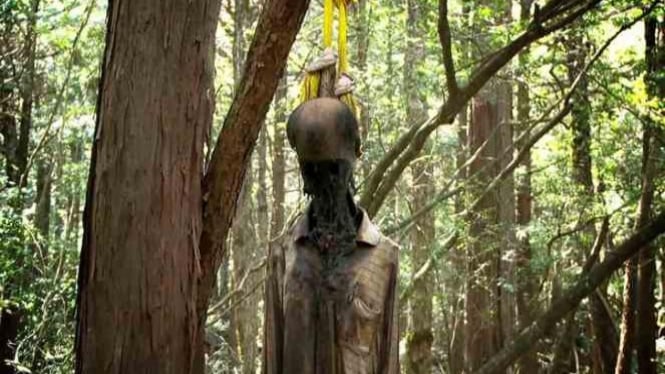 Korban bunuh diri di hutan Aokigahara.
In addition to its towering trees, the Crooked Forest in Poland is also considered haunted because of the tree's somewhat strange shape. All the trees in the forest outside Nowe Czarnowo are curved and have the same shape.
In 1930, an estimated 400 pine trees were planted there which were used as raw materials for shipbuilding. However, the cause why the tree looks curved is still a mystery that has not been solve until now.
Aokigahara Forest in Japan is one of the scary and sacred forests because this forest is the location for someone to commit suicide. It is estimated that there have been around 500 suicides since the 1950s. The government then intervened in 1970, forming a team tasked with searching for bodies.
Not only as a place of suicide, Aokigahara as the sacred forest is thought to have a subway reserve. So, climbers get lost. The sea of ??trees in this forest will make any sound outside inaudible.
5. Hoia-Baciu Forest, Romania
Halaman Selanjutnya
The Hoia-Baciu Forest is more spectacular than the legend of drawing a perfect circle in the middle of the forest and is considered one of them.