A Spokesperson for Indonesian G20 Reports Current Series Events
Jumat, 16 September 2022 - 16:52 WIB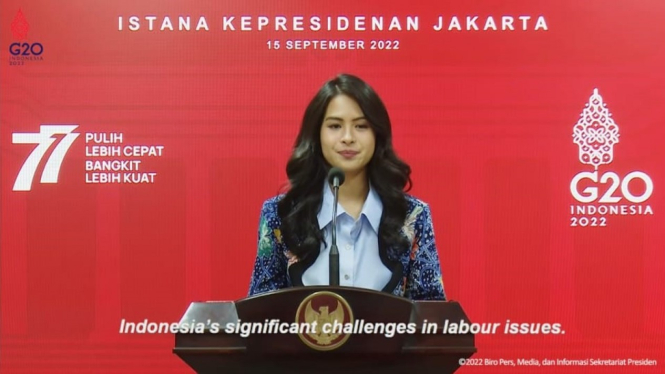 Maudy Ayunda as the Spokesperson for Indonesian G20
Sumber :
Screenshot from Official YouTube Account/Sekretariat Presiden
VIVA – Ahead of the upcoming G20 Summit on November 14 to 15, 2022, in Bali, the Spokesperson for the Indonesian G20 Presidency, Maudy Ayunda reports two current series of events.
The first activity is the G20 Labor and Employment Minister's Meeting (LEMM) which began with the G20 Working Group on Manpower (EWG) forum in Badung, Bali, on September 12 to 15, 2022.
The Indonesian G20 presidency in the employment sector is one of the significant discussion points in the post-pandemic recovery situation because the pandemic has accelerated job changes in the labor market.
"Therefore, the G20 Minister of Manpower meeting in Bali on September 14, 2022, carries the theme Improving the Employment Condition to Recover Together," Maudy said in a press statement broadcast on the Presidential Secretariat's official YouTube channel, on Thursday, September 15, 2022.
Besides being attended by ministers of manpower from G20 member countries, the meeting was also attended by some guest countries, engagement groups, and international institutions.
The LEMM G20 series produced five agreement documents which included accelerating the inclusion of groups of people with disabilities into an inclusive labor market, and increasing human resource capacity (HR) through Community Based Vocational Training (CVBT).