Profile of Francesco Bagnaia, Strong Candidate Winner MotoGP 2022
Sabtu, 24 September 2022 - 15:16 WIB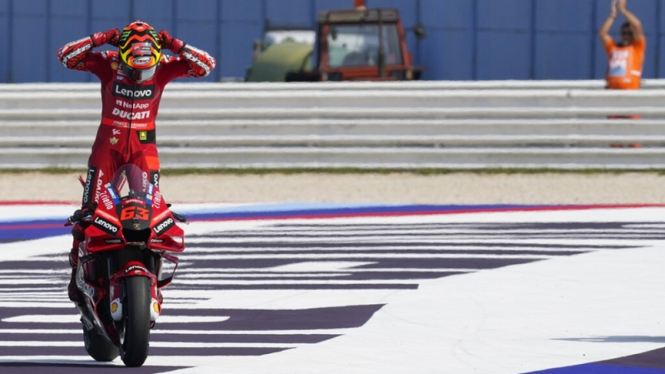 Francesco Bagnaia juara MotoGP San Marino 2022
VIVA – Francesco Bagnaia or better known as Pecco is a Ducati racer. He is a candidate for MotoGP 2022 winner. This MotoGP racer who was born in Turin, Italy on January 14, 1997. He won the MiniGP 2009 when he was 12 years old.
Bagnaia made his debut in the 125cc pre-GP in the Mediterranean Championship with Monlau Competition in 2010. Two years later, Bagnaia made his CEV Moto3 debut on a Honda NSF250R.
Exactly in 2013, Bagnaia was finally able to make his Grand Prix debut in Moto3 with the Italian FMI team riding a Honda. However, Bagnaia did not score impressive results as they only finished in the 16th position at Sepang in the same season.
One season later, Bagnaia joined Sky Racing Team VR46 on a KTM. His race record tends to improve.
In 2015 Moto3, Francesco Bagnaia moved to the Aspar Team for and first time on the podium at Le Mans. His achievements continued to climb in the 2016 season by finishing fourth in the 2016 Moto3.
Then it got Francesco promoted to Moto2. Sky Racing Team VR46 once again chose him to a higher level in the 2017 racing season. In 2017 Moto2, Bagnaia successfully won the title of best rookie racer.