England Relegated to UEFA Nations League B After Defeat by Italy
Sabtu, 24 September 2022 - 21:30 WIB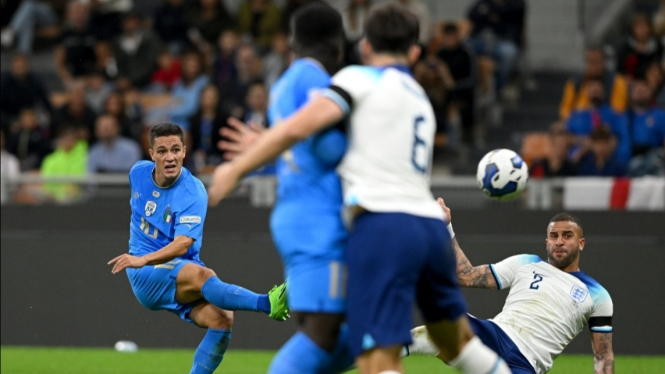 Timnas Italia vs Inggris.
VIVA – The fifth matchday of Group A3 of the 2022/2023 UEFA Nations League is presented when the Italian National Team plays England at the San Siro on Saturday, September 24, 2022. In this match, England was defeated by Italy and confirmed that England would go down to League B UEFA Nations League next season.
After the kick-off, Italy tried to take the initiative to attack. Meanwhile, England did not play too defensively but was disciplined enough to stop the flow of the game from Italy.
Italy dominated the attack until entering the half-hour match. However, no chance endangers England's goal.
No additional goals were created until entering the break. The first half closed with a score of 0-0.
Harry Kane was injured in six minutes into the second half. The England captain clashed with Italian defender Rafael Toloi.
Harry Kane's face looked bloody and immediately received treatment and was taken to the touchline. He can return to continue the match.
Italy got a chance in the 64 minutes. The ball from Giacomo Raspadori in the penalty box was pushed out by Pope.