Complete Schedule for the U-17 Asian Cup Qualification 2023
Jumat, 30 September 2022 - 11:16 WIB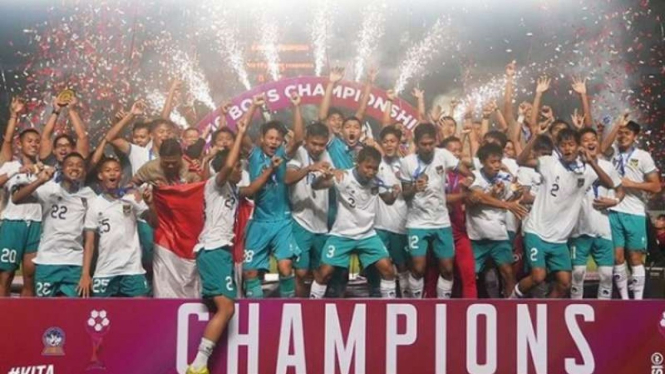 Timnas Indonesia U-16 juara Piala AFF U-16
VIVA – After winning the 2022 AFF U-16 Cup, the Indonesian national team will appear in the 2022 U-17 Asian Cup Qualification. The U-17 National Team will be joined in Group B with Malaysia, Palestine, Guam, and the United Arab Emirates. Here's the complete schedule of football matches that will be held at Pakansari Stadium, Cibinong from October 1 to 9, 2022.
In this qualifier, the teams are divided into Groups A to J. The ten group winners will automatically qualify for the final round of the U-17 Asian Cup 2023. The other was won by the six best runners-up.
As reported by Soccerway, Indonesia has yet to compete on the first matchday of October 1, 2022. The Bima Sakti team will appear on October 3, 2022, against the Guam team.
Two days later, the Indonesian U-17 national team will play against the United Arab Emirates. Then, fight Palestine on October 7 and Malaysia on October 9.
The U-17 Asian Cup will take place from May 3 to 20, 2022. As of now, the host of the finals has not been determined. Bahrain was originally appointed to host but withdrew.
Complete Schedule of U-17 Asian Cup Qualification Group B: