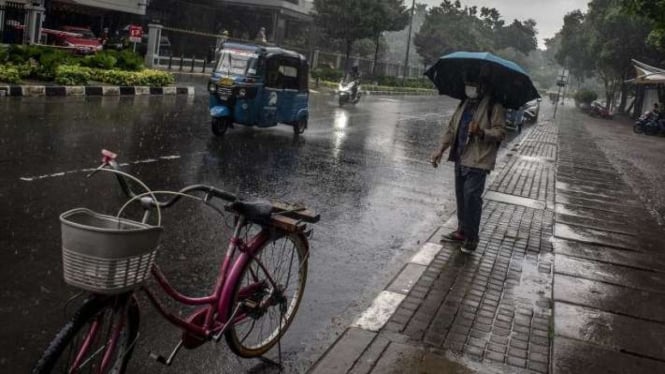 Ilustrasi warga berjalan menggunakan payung saat hujan di Jakarta.
Sumber :
ANTARA FOTO/Aprillio Akbar/rwa.
VIVA English Site – The Meteorology, Climatology, and Geophysics Agency (BMKG) has asked people across Indonesia to brace for extreme weather between October 2 and 8, 2022.
"The analysis results of the latest atmospheric dynamics conditions show that there are turns and slowdowns in wind speeds that can increase convection patterns," BMKG's deputy for meteorology, Guswanto, said here on Saturday.
Significant atmospheric dynamics that can trigger an increase in rainfall have been indicated in many parts of Indonesia, he added.
In addition, the interaction of the active Madden-Julian Oscillation (MJO) with the Equatorial Rossby waves and Kelvin waves could maximize the potential for rain cloud growth in several parts of Indonesia in the next few days.
"Based on these conditions, the BMKG has predicted rainfall of moderate-heavy intensity, accompanied by lightning and strong winds, can potentially occur on October 2–8," Guswanto said.
The regions of West Sumatra, Bengkulu, and West Java have been put on alert for heavy rains from October 1 to 3, he informed.