Indonesia and Czech Sign a Commitment Purchase of L410 Aircraft
Sabtu, 5 November 2022 - 14:20 WIB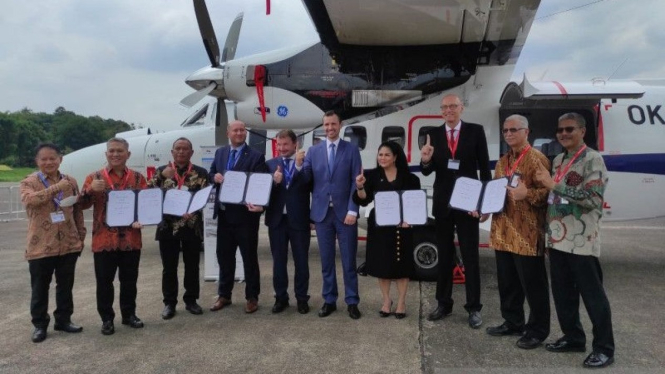 Indonesia, melalui PT. Prasandha Dumayasa, dan Republik Ceko menandatangani komitmen pembelian pesawat jenis L410 NG buatan Ceko di Jakarta, Jumat.
VIVA – Indonesia and the Czech Republic signed a commitment to purchase a L410 NG aircraft made by Czech in Jakarta, Friday, November 4, 2022, as a form of cooperation between the two countries defense industries.
The commitment to purchase the aircraft was signed by the Director of PT Prasandha Dumayasa; Evi Lusviana, Director of Wise Air; Wibisana Sugria, Director of North Sulawesi; Marco Dino Umbas, Director of PT Merpati Maintenance Facility (MMF); Rowin Mangkoesubroto and Deputy Commercial Director of Omnipol Asia; David Holubec.
"Of all (three companies), approximately eighteen aircraft have been purchased and five more will follow next week," Evi Lusviana said at the 2022 Indo Aerospace Expo & Forum at Halim Perdanakusuma Air Base, Jakarta, Friday.
According to Evi Lusviana, the L410 NG aircraft are in the same class as the N219 aircraft made by PT Dirgantara Indonesia (PTDI).
"My main goal is to create a domestic industrial ecosystem for aircraft that can automatically create air bridges in the area," Evi remarked.
The three companies that have purchased the L410 NG are 10 units of North Sulawesi Air, three units of Wise Air, and five units of Star Wisata Air, and all three are airlines that work with local government. The price of the aircraft will be determined after negotiating with the Czech manufacturer.
However, Evi said that he had emphasized to the Czech manufacturers that if the purchase had reached 50 aircraft, then they had to build an ecosystem in Indonesia.
Halaman Selanjutnya
"We also have MRO (maintenance, repair, and overhaul) to make it easier for aircraft users to carry out maintenance," Evi added.