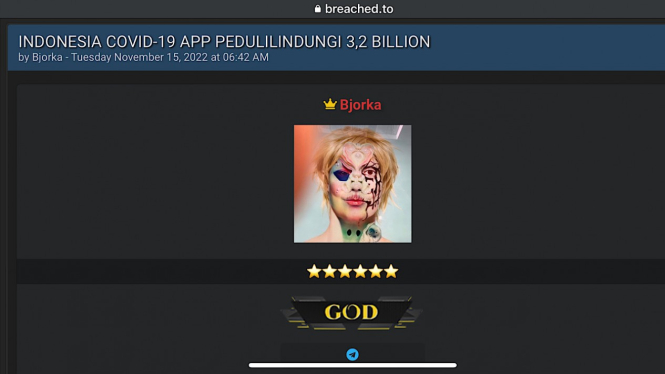 Bjorka jual data yang diklaim dari aplikasi PeduliLindungi.
VIVA – The National Cyber and Crypto Agency (BSSN) team conveyed that they tries to find a trace of Threat Actor Bjorka on the deep web Breached.to on November 15, 2022, at 1.42 PM in West Indonesia Time. BSSN found out about the sale of 3.2 billion PeduliLindungi user data.
BSSN spokesman, Ariandi Putra said that BSSN together with the Ministry of Health (Kemenkes), the Ministry of Communication and Information Technology (Kominfo), and PT Telkom coordinated and then, investigated. 
"The investigation was carried out before confirming the alleged data leakage of PeduliLindungi application users," BSSN Spokesperson, Ariandi Putra stated in the official release on November 18, 2022.
The technical steps taken include validating the data published by the Threat Actor with the data in the PeduliLindungi application, acquiring firewall logs, imaging virtual machines, and application snapshots on the PeduliLindungi application server. 
"Until now, these processes are still ongoing," Ariandi Putra remarked.
Still from BSSN's statement, they found that Bjorka provided 40 data sample records and sold the data for US$100,000 (Rp1.5 billion) in bitcoin. 
Halaman Selanjutnya
Bjorka hacker claims to have 3,250,144,777 with a size of 157GB with data in the form of vaccination data, check-in history data, and contact tracing the history of PeduliLindungi application users.