Global Media Congress Involves Journalists from 141 Countries
Senin, 21 November 2022 - 13:10 WIB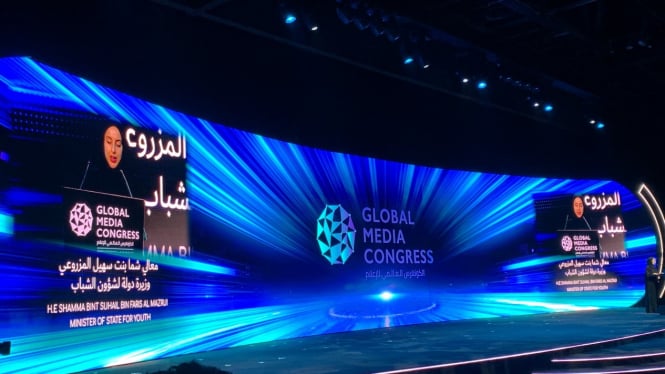 Global Media Congress di Abu Dhabi.
VIVA – The Global Media Congress (GMC) in Abu Dhabi, the United Arab Emirates involved more than 1,600 journalists to cover the Congress activities. The GMC took place on November 15 to 17, 2022, at the Abu Dhabi National Exhibition Center (ADNEC).
The GMC presents journalists coming to cover from 141 countries, including Asia, Africa, Europe, North America, and South America. Journalists from Asia accounted for 78 percent of the total journalists covering the congress, 11 percent from Africa, 5 percent from Europe, 2 percent from South America, and 3 percent from North America and Australia.
The Global Media Congress is organized by ADNEC Group in partnership with Emirates News Agency and includes an exhibition and conference offering an ideal platform to exchange ideas and experiences on a wide range of topics, including artificial intelligence, data, revolutionary technologies, and consumer behavior, besides of key media trends and expectations.
Traditional media outlets, including newspapers, TV and radio channels, and websites accounted for the largest share of participating media professionals with a rate of 52.5 percent of the total number of attendees.
In addition, representatives of news agencies from 126 countries made up 23 percent of the total participants, while journalists representing newspapers and websites accounted for 18 percent of the total, with magazines and TV channels making up 10 percent and radio channels 1.5 percent.
New media platforms accounted for 47.5 percent of the total participants in the coverage of congress activities, which attracted many prominent influences nationally and globally.
Halaman Selanjutnya
The Global Media Congress involved more than 30 debates and workshops featuring more than 162 renowned speakers. In addition, the exhibition hosted more than 170 leading media companies and corporations from 38 countries around the world, showcasing the latest international technologies. Several companion events, held for the first time in the Middle East were also presented.