Five Players Lead the 2022 World Cup Top Goal Scores List
Kamis, 24 November 2022 - 11:20 WIB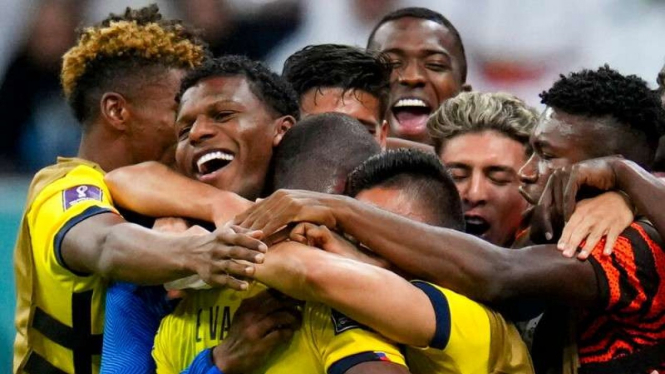 Pemain Ekuador rayakan gol Enner Valencia.
Sumber :
AP Photo/Thanassis Stavrakis
VIVA – The 2022 World Cup has entered its fourth day. So far, five players are leading the provisional top scorers' list. The leaders of the 2022 World Cup top scorers have scored two goals in a single match.
First, Enner Valencia. He provided two goals for the national team of Ecuador in the opening match of Group A of the 2022 World Cup against the host, the national team of Qatar.
Next, the player from the England national team, Bukayo Saka. He gave two goals against the Iran national team. The match between the two ended with a score of 6-2.
Although Iran had to accept defeat, the player, Mehdi Taremi is at the top of the 2022 World Cup top score on the provisional list. Taremi managed to score two goals against England.
Then, coming from the Spanish national team. Ferran Torres made the list after scoring two goals against the Costa Rica national team on Wednesday night, November 23, 2022.
Meanwhile, there are still several other players who have scored one goal at the 2022 World Cup. One is Lionel Messi from Argentina. He scored against the Saudi Arabia national team. Unfortunately, Argentina had to accept defeat with a score of 1-2.