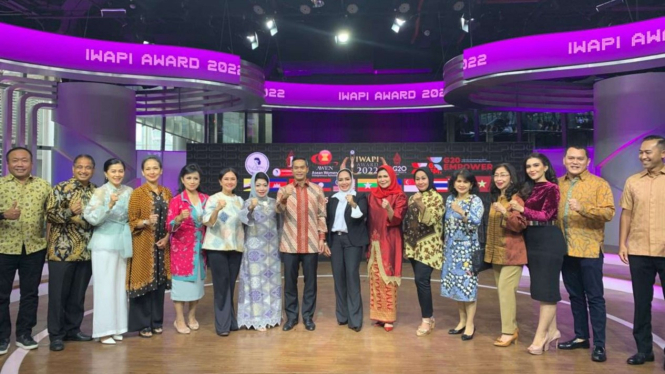 Anindya Bakrie (tengah) raih penghargaan IWAPI AWARD 2022
Anindya Bakrie felt grateful for this award, he said that the majority of Micro, Small, and Medium Enterprises (MSME) leaders are women and their actions are getting bigger.
"This is an award that makes me honored, but also encouraged to follow that indeed women are getting bigger and bigger. Not only as housewives but also in the business world. In fact, most of the majority of MSMEs are female leaders," Anindya Bakrie remarked. 
"Because women are usually more careful in their business. They say money can come in, but it can't go out. That indicates that they are more careful and the money is returned to the family, business, and the environment," he added.
Moreover, Nita Yudi also said that women play an important role in the economy.
"Women are significant in the role of the economy because we can see the number of women MSMEs is 60 percent of the number of MSMEs throughout Indonesia. It means that this economy is driven by women entrepreneurs," Nita Yudi remarked.
Furthermore, Anindya Bakrie will begin to focus on thinking about services and products for women and make women's MSMEs the basis.
"I think how to involve more women in the management of the Bakrie group, and how to also think more about services and products for women, and also partner with MSMEs and women's MSMEs as a base," Anindya Bakrie explained.