Five Largest and Deadliest Earthquakes in World History
Kamis, 24 November 2022 - 16:10 WIB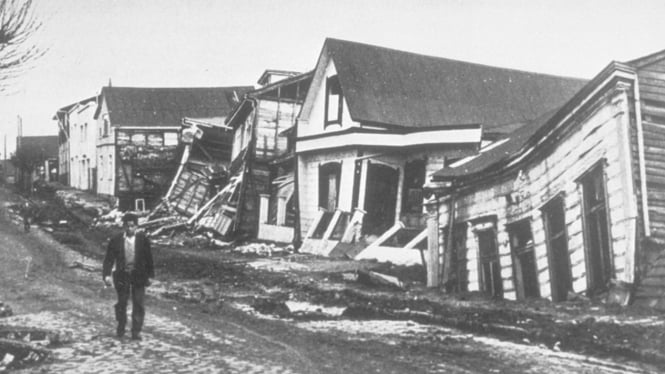 Gempa Bumi di Valdivia, Chile 22 Mei 1960 (Magnitude 9.5)
VIVA – Earthquakes are one of the most common natural phenomena, as recently happened in Indonesia, namely the Cianjur earthquake. Earthquakes usually cause a lot of destruction and loss of life.
In the world, the largest earthquake occurred in Chile, killing thousands of people. In Indonesia, there was also an earthquake accompanied by a tsunami that occurred several years ago, exactly in Banda Aceh. Here are some of the largest and deadliest earthquakes in world history, as reported by various sources.
1. Valdivia, Chile-May 22, 1960 (Magnitude 9.5)
The largest earthquake in history occurred in Chile precisely in Valdivia on May 22, 1960, which had a magnitude of 9.5. The earthquake killed nearly 1,655 people and more than 3,000 suffered serious and minor injuries.
In addition, about two million people had to be displaced which caused enormous losses of 550 million dollars or around of IDR 8.6 trillion at that time. The earthquake caused a tsunami that reached Hawaii, Japan, and the Philippines.
Two days after the earthquake, the Puyehue volcano erupted and emitted ash and steam up to 6 km into the atmosphere for several weeks.