Special Friendship Between Sri Mulyani-Retno Marsudi for 43 Years
Senin, 28 November 2022 - 18:30 WIB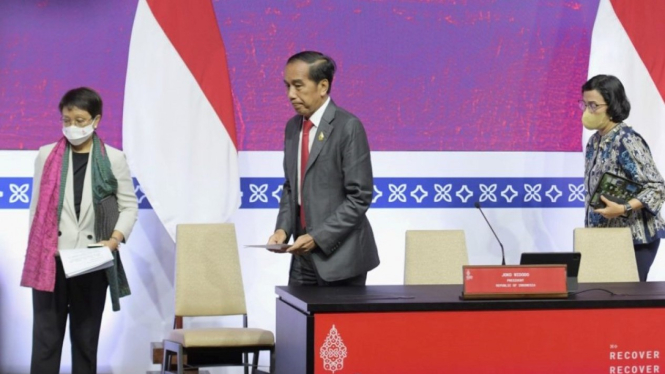 Retno Marsudi (Left), President Jokowi (Center), Sri Mulyani (Right)
VIVA – During the last day of the G20 about two weeks ago, Finance Minister Sri Mulyani Indrawati and Minister of Foreign Affairs, Retno Marsudi were seen hugging after President Joko Widodo officially handed over the G20 Presidency baton to India and marked Indonesia's G20 Presidency ended for about a year.
Finance Minister Sri Mulyani and Foreign Minister Retno Marsudi expressed gratitude for the success of the G20. It is known that the role of Sri Mulyani and Retno Marsudi is quite large in the implementation of the G20 assisted by other stakeholders. They are both referred to as duo Indonesian Srikandi (Female figure in Indonesian puppetry who has strong and independent characters).
Minister of Foreign Affairs, Retno Marsudi said that in the Indonesian G20 Presidency, as Minister of Finance, Sri Mulyani plays a major role in the financial track while as Foreign Minister, Retno Marsudi is in charge of the Sherpa track.
"The G20 has a finance track, so there is a financial track, there is a sherpa track which is more about the overall economy and development, and we are the guardians of each track. Mrs. Minister of Finance is on the finance track, while I am on the Sherpa track," Retno Marsudi remarked.
Retno said that as work partners and friends, she and Sri Mulyani often discuss the preparation and progress of Indonesia's G20 Presidency.
"(Discussing]) where (the progress) is, what should be strengthened, what and this, and so on. But, because we are old friends, the communication is more comfortable," the Foreign Minister said.
Halaman Selanjutnya
Moreover, it turns out that Retno Marsudi and Sri Mulyani are friends from high school, namely at SMA Negeri 3 Semarang, Central Java. As of this year, their friendship has lasted 43 years.