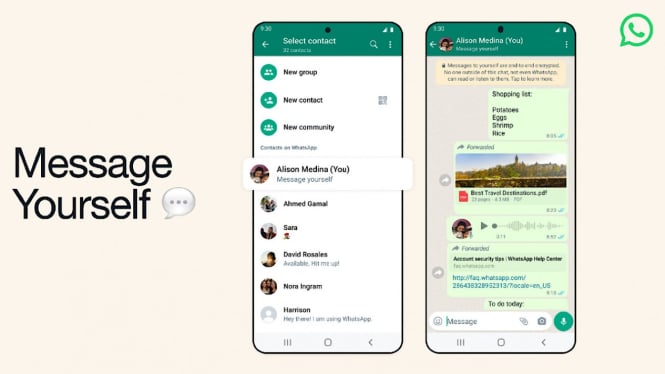 Fitur WhatsApp Message Yourself.
VIVA – WhatsApp will allow users to send messages to themselves with the launch of a new feature, message yourself. By sending messages to own contacts, someone can back up messages for easy access. 
Called 'Message Yourself', this feature allows users to send notes, reminders, and shopping lists to themselves on WhatsApp. Then, the Meta-owned instant messaging app announced the launch of the new messaging feature that will reach all Android and iPhone users in the coming weeks.
Initially, it was tested with a few beta testers, with WhatsApp beta tracker WABetaInfo reporting the tool in late October. The company has since confirmed it and the feature is starting to roll out globally. 
Users will see their contact at the top of the WhatsApp contact list when they create a new chat. Tapping on that contact will take them to the chat screen where they can message themselves.
Although the original feature for sending messages to yourself is still new to WhatsApp, some users have been using this solution for some time, according to the TechCrunch website, Tuesday, November 29, 2022. 
They can message themselves using the 'click to chat' feature in the app. The new offering will also remove the additional steps required for users to self-chat using the 'wa.me URL'. 
Halaman Selanjutnya
Users can also pin their self-chat messages to the top of the conversation list if they don't want to search for them in the chat list. WhatsApp competitor Signal has a similar feature called Note to Self, allowing users to create messages for personal use.