Samuel Eto'o Attacks Man After Brazil vs South Korea Match
Rabu, 7 Desember 2022 - 14:16 WIB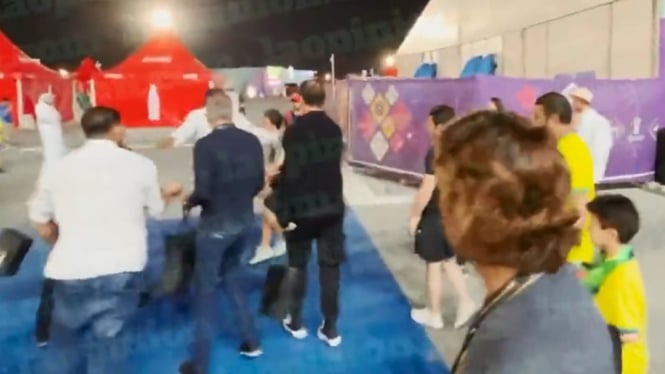 Samuel Eto'o ngamuk di Stadion Piala Dunia 2022
VIVA – The President of Cameroon Football Federation (FCF), Samuel Eto'o could not control his emotions after watching the 2022 World Cup match between the national team of Brazil and the national team of South Korea at 974 Stadium, Doha, Qatar, on December 6, 2022. Eto'o kicked an Algerian Youtuber, Saduni SM, in the chest.
Eto'o came to watch the Brazil vs South Korea match as a FIFA invitee. With a famous name for playing in big clubs like Barcelona and Inter Milan, of course, many people noticed Samuel Eto'o's presence.
From videos on social media, the former Cameroon national team striker was initially surrounded by several people asking for selfies.
The beginning of this incident was Eto'o objection to a statement from Saduni SM. Through the YouTube platform, he explained why Eto'o was out of control. He claimed to have asked about a referee named Bakary Gassama who led the 2022 Africa Zone World Cup qualifying play-off match between Algeria vs Cameroon.
As known, the match raised controversy. Until now, the Algerian people are still busy discussing it, because they are disappointed that they cannot participate in the 2022 World Cup because of the referee's leadership.
Hearing Saduni SM's question, Eto'o was angry and tried to chase him. Some people around tried to separate them. So, there will be no bad problems. Unfortunately, Samuel Eto'o had difficulty controlling his emotions and finally kicked Saduni SM.
Halaman Selanjutnya
Saduni SM claimed to have filed a complaint report regarding the violence he experienced. He claimed to have been injured when his camera and microphone were destroyed. Through his Youtube channel, Saduni SM also asked witnesses who were around to appear. So that later he can provide testimony to the security forces as well.