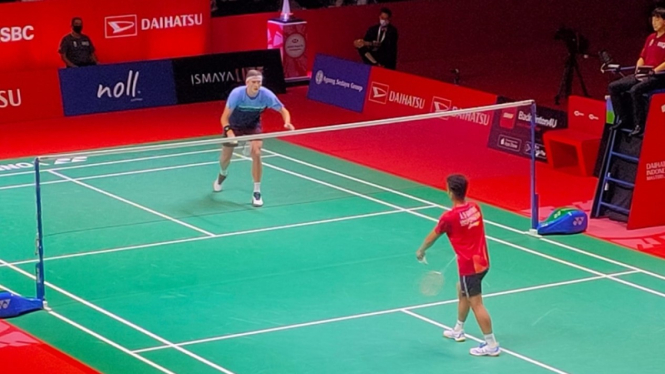 Anthony Ginting vs Viktor Axelsen di Indonesia Masters 2022
VIVA – The BWF World Tour Finals 2022 was successfully held some time ago. This prestigious tournament was held on December 7 to 11, 2022. The world badminton players played at the Nimibutr Arena, in Bangkok, Thailand.
China managed to become the champion of the BWF World Tour Finals 2022 with three titles. Actually, Indonesia has the opportunity to win two titles in this match, namely Anthony Sinisuka Ginting from the men's singles and Mohammad Ahsan / Hendra Setiawan from the men's doubles sectors. 
Anthony Ginting lost in straight games to Denmark's world number one Viktor Axelsen. On the other side, Ahsan/Hendra had to accept defeat after a three-game struggle against Chinese men's doubles, Liu Yu Chen/Ou Xuan Yi.
As information, this is the third time in a row that there are no Indonesian representatives on the BWF World Tour Finals champion podium.
Meanwhile, badminton players will soon start a new tournament. Of course, in 2023.
Next January will be presented four tournaments, it will start with the BWF World Tour Super 1000 Malaysia Open 2023 (January 10 to 15). The second tournament will be presented at BWF World Tour Super 750 India Open 2023, held on January 17 to 22, according to VIVA Badminton.
Halaman Selanjutnya
Next, there is the BWF World Tour Super 500 Indonesia Masters 2023. Will take place in Jakarta on January 24 to 29. Then, there is also the BWF World Tour Super 300 Thailand Masters 2023 that starting January 31 to February 5.