Indonesia Gets First Gold Medal at 2023 ISSF World Cup Rifle/Pistol
Selasa, 31 Januari 2023 - 16:06 WIB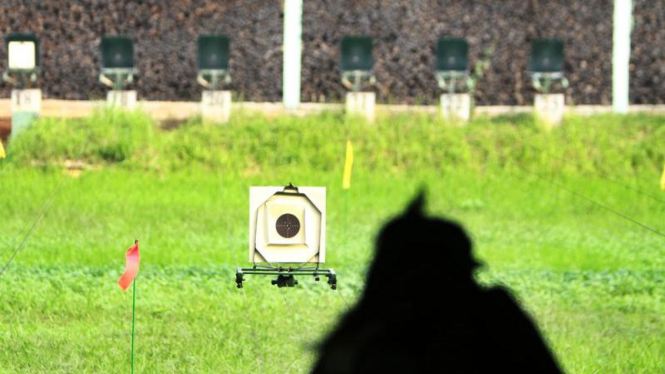 Ilustrasi Kejuaraan Menembak
Sumber :
VIVAnews/Nurcholis Anhari Lubis
VIVA – Indonesia successfully makes history by reaching the first gold medal at the 2023 ISSF World Cup Rifle and Pistol. This achievement was created by Arista Perdana Putri Darmoyo / Muhammad Iqbal Raia Prabowo to be the best in the 10m Air Pistol Mixed Team number.
Indonesia is the host of the 2023 ISSF World Cup Rifle/Pistol at the Lapangan Tembak Senayan, Jakarta, from January 27 to February 9. Then, Arista/Iqbal's certainty of getting gold after the final won 16-4 over Min Kyung Oh / Mose Kim (South Korea 2) on Monday, January 30, 2023.
"Thankfully, I can fight my way to victory. This is my first medal in the World Cup. I keep trying to focus and try to be calm throughout the race," Arista said after the race.
This victory, Arista said, could not be separated from the results of the evaluation on the day of the race in the Women's 10m Air Pistol number. Arista at that time claimed to be less brave when pulling the trigger. On the other hand, there is a slight problem with the weapon, so it is not optimal.
"Today, I am more confident and confident so that I can overcome yesterday's problems," Arista added.
Furthermore, Muhammad Iqbal also said, "This result exceeded my limit. Previously I only targeted better than yesterday. Getting gold is not easy and this is my stepping stone to doing better for the next higher event,"
Halaman Selanjutnya
From the start, Arista/Iqbal did impress. In the qualifying round, they were in first place out of 18 mixed teams competing. In this phase, they scored 579 points, a combination of Arista's 287 and Iqbal's 292. 18 of their shots were right in the center of the target.