Indonesia and Norway Agree to Strengthen Economic Cooperation
Senin, 20 Maret 2023 - 14:00 WIB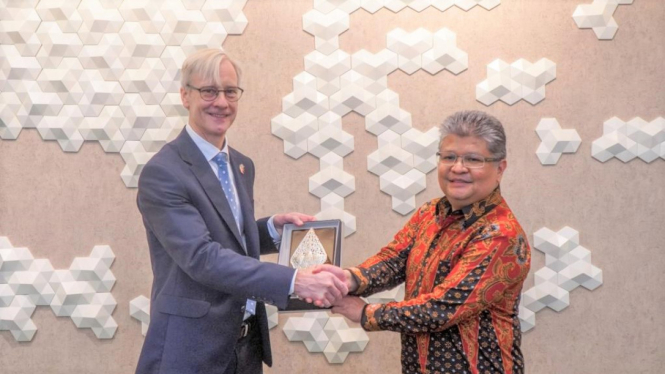 Indonesia and Norway make agreements in several sectors
VIVA – In order to accelerate national economic growth, the government of Indonesia and Norway have agreed to increase the trade and investment cooperation through Indonesia-EFTA CEPA (Indonesia - European Free Trade Association Comprehensive Economic Partnership Agreement) agreement which was concluded in 2018.
The commitment was stated during the meeting between the Coordinating Ministry of Economic Affairs' Expert Staff on Connectivity, Service Development, and Natural Resources, Dida Gardera, and the Norwegian Deputy Foreign Minister Erling Rimestad. 
"We agree to continue strengthening the implementation of the agreement, including by organizing dissemination activities for domestic stakeholders to increase trade and investment cooperation," Gardera stated on Sunday.
In addition, Indonesia and Norway also agreed to continue to encourage the utilization of the agreement, including socialization activities for stakeholders in their respective countries to improve trade and investment relations and cooperation.
One of the aspects of cooperation that were specially discussed during the meeting related to the implementation of Digital Trade, which is also in line with Indonesia's efforts to carry out digital transformation.
On this occasion, the two countries also discussed the issue of trade and sustainable development (TSD), to which Indonesia has a high commitment, as stated in several documents, including the Enhanced Nationally Determined Contribution (ENDC) in handling climate change, and the National Medium-Term Development Plan (RPJMN).
Halaman Selanjutnya
"The most important thing is that Indonesia's legal products are supportive of sustainable development issues, including through the inclusion of a carbon tax in Law No. 7 of 2021 on Tax Regulation Harmonization and Law No. 4 of 2021 on Financial Sector Development and Enhancement," Gardera informed.