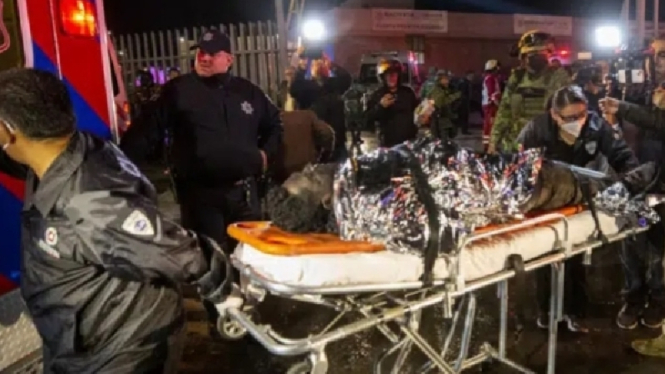 VIVA – At least 40 people died because of a massive fire at a government-run migrant detention center in Ciudad Juarez, a city in northern Mexico, on the United States border, according to Mexico's National Migration Institute (INM) on earlier Tuesday.
The deadly blaze has underlined the urgent situation in Mexican cities along the border, which have been inundated with migrants sent back from the United States by a pandemic-era public health restriction that is set to expire in early May.
Sixty-eight men from Central and South America were being held at the facility, the INM said in a statement. At least 28 Guatemalan nationals were among the dead, Guatemala's Institute of Migration confirmed. One man was Colombian, one was Ecuadorian, 12 were Salvadorans, 13 were Honduran and 13 were Venezuelan, the INM said.
It is unclear how many people of each nationality were killed or injured. At least 11 migrants remain in hospital following the fire, according to the government of Mexico's Chihuahua state.
Moreover, Mexico's President Andres Manuel Lopez Obrador said that the men detained at the center were angry at the officials, and had been demonstrating against their deportation.
"What we know so far is that migrants from Central America and some from Venezuela were in that shelter. We still do not know exactly the names and nationalities of those who unfortunately lost their lives," López Obrador said.
Halaman Selanjutnya
"This had to do with a protest that they started after, we assume, they found out that they were going to be deported, and as a protest, they put mattresses from the shelter at the door of the shelter, and they set fire to them and they did not imagine that this was going to cause this terrible accident. Sadly, this is happening," the president explained.