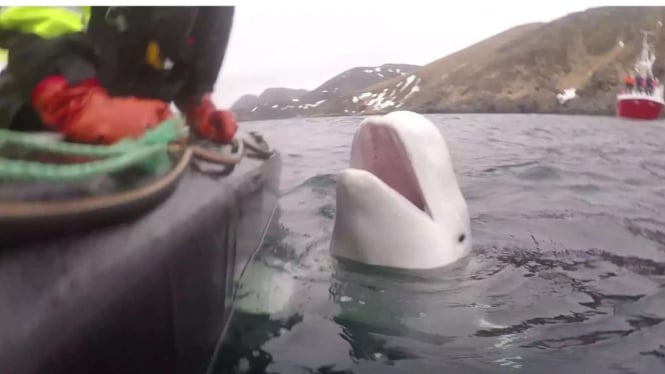 Paus Beluga yang diduga mata-mata Rusia.
VIVA – The government of Norway urges its people to stay away friendly from Beluga Whale accused of being a Russian spy swimming along the country's coastline. 
The adorable sea creature, nicknamed Hvaldimir, was first spotted in 2019 wearing a "suit of armor" that read "St. Petersburg" with an underwater camera, leading experts to believe it was trained by the Russian Navy.
The "secret agent" allegedly appeared again recently in the densely populated area of Inner Oslofjord, where he followed boats and made a splash with people on board, the Norwegian Directorate of Fisheries warned mid-week.
Frank Bakke-Jensen, director of the agency, urged residents to "avoid contact" with Hvaldimir for the animal's safety, even though he is "docile and used to being around people".
"We especially encourage people in boats to keep a distance so that the whale is not injured or, in the worst case, killed by boat traffic," Bakke-Jensen stated. 
The aquatic mammal, which had suffered minor injuries, was mainly due to contact with the boat, and the risk of whales being injured by human contact is much greater, the agency said in a statement.
In recent weeks, the white whale has been foraging at farms, "where it can catch grazing fish with excess feed," it added.
Hvaldimir, whose mischievous nickname is a combination of the Norwegian word for whale and Russian President Vladimir Putin, will not be captured by officials despite possible ties to the country.
"We have always said that the whale in question is a free-living animal and we see no reason to capture him and put him behind a barrier," Bakke-Jensen said.
However, its movements will still be monitored by Norwegian marine officials.
The whale was first spotted by fisherman Joar Hesten in the northeastern region of Finnmark in 2019 after the mammal started rubbing its body against the boat.
At the time, marine biologists and other experts said the creature was a Russian-trained animal, with one of its binder clips bearing the words "St. Petersburg Equipment," fueling the theory that the fish might be a spy.
The Russian Navy is "known to train belugas to perform military operations," Joergen Ree Wiig, a marine biologist at the Norwegian Directorate of Fisheries, said in April 2019.
Whales trained by the Russian military are generally assigned to guard naval bases, assist divers and find lost equipment but can be used for other purposes, he said.
Halaman Selanjutnya
In recent weeks, the white whale has been foraging at farms, "where it can catch grazing fish with excess feed," it added.