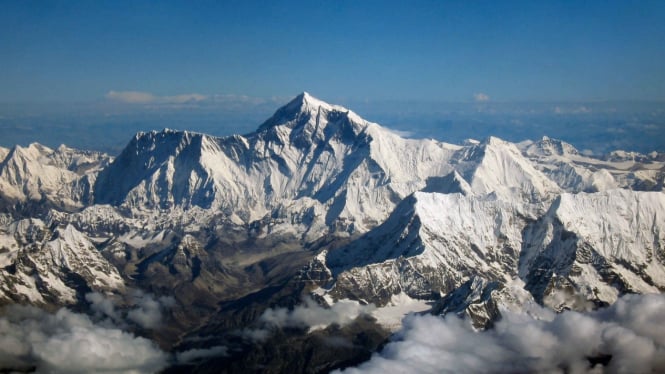 VIVA – Recently experts have said that climate change is to blame for up to 17 deaths on Mount Everest. Nepal's tourism chief says it becomes the reasons for deadliest years in history.
A total of 12 people have now been confirmed dead during Everest expeditions this season and another five are missing, presumed dead, as no contact was made for at least five days in all cases, according to the Himalayan Database, which tracks mountain fatalities.
The figure was confirmed by Yuba Raj Khatiwada, the director of Nepal's tourism department. "Overall this year we lost 17 people on the mountain this season," he said.
"The main cause is the changing in weather. This season the weather conditions are not favorable, very variable. Climate change is having a big impact in the mountains."
It would make this year one of the worst on record for deaths on Everest, matched only by the events of 2014 when 17 people died. Most of them were local Sherpas who died in avalanches.
On average, between five and 10 people die on Everest each year, but recent years have seen a spike.
Among those who lost their lives climbing Everest this year was Jason Kennison, a 40-year-old mechanic from Australia. 
Kennison had overcome a spinal injury while climbing to the summit, but was unable to climb back down. Then there was a Canadian doctor, Pieter Swart, and three Nepalese Sherpas who died in an avalanche in April.
Those still missing include Hungarian solo climber Suhajda Szilárd, who climbed the mountain without sherpa guides or supplemental oxygen, and an Indian-Singaporean climber who is feared to have fallen off the mountain.
This year has been deadlier than 2019, when images of overcrowding and "carnage" on Everest went viral.
Hundreds of climbers waited up to 12 hours to scale the mountain, and reported that people resorted to climbing on bodies, and immobilizing climbers. A total of 11 people died that year.
The Nepalese government has been criticized for issuing 479 permits this year, the highest number ever. With each one costing £12,000 or IDR 220 million.
Climbing is a major revenue generator for the cash-strapped small country, and the government is reluctant to reduce the number.
Khatiwada denied there were too many, saying the numbers were high this year because the climbing window opened earlier and the season was longer than usual, so there was no overcrowding.
The rising death toll comes as the 70th anniversary of Edmund Hillary and Tenzing Norgay's historic first ascent to the summit of Everest is celebrated on Monday.
It marked the start of a global obsession among mountaineers to climb the world's highest peak, with more than 10,000 ascents since then and requests for climbing permits increasing every year.
Ang Norbu Sherpa, president of the Nepal National Mountain Guides Association, says "too many" permits are being issued and it is putting environmental pressure on the mountain.
"The climbing pattern has changed, it used to be tough climbers but now many novice climbers want to reach the top of Everest," Sherpa said.
Experts and famous climbers have warned that Everest, which has an altitude of 8,848 meters, is now seen as a "tourist destination" and a playground for thrill-seeking rich people, even those with little experience of climbing at altitude, who are willing to pay more than £48,000 to be guided to the summit.
Alan Arnette, a mountaineer who climbed Everest in 2011 and now writes frequently about the requirements, said that this year was "chaos".
"The root cause of the high death rate lies with inexperienced clients who push themselves too hard and don't turn back soon enough," he said.
Halaman Selanjutnya
Among those who lost their lives climbing Everest this year was Jason Kennison, a 40-year-old mechanic from Australia.