10 Doctors Who Lost License Due to Terrible Medicine Practice
Rabu, 15 Juni 2022 - 16:54 WIB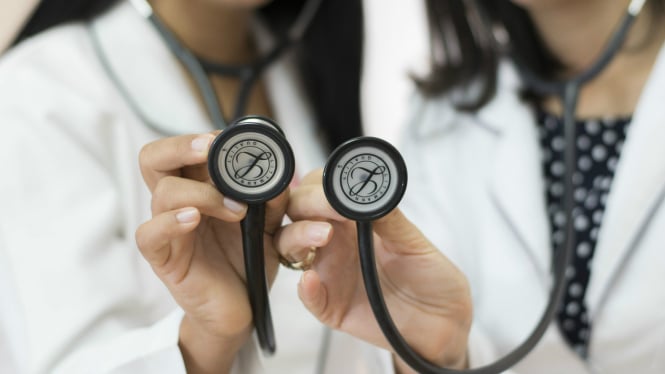 Ilustrasi dokter.
Sumber :
www.pixabay.com/jennycepeda
VIVA – Doctor is one of the jobs that are needed by many people. Unfortunately, there are various reasons that make a doctor lose their license, one of which is a way of practicing that is beyond reasonable limits or carrying out treatment with improper methods.
As in several cases of doctors losing their licenses due to practicing truly horrific medicine, citing various sources here are facts as well as from various sources;
1. Amputating a Toe on the Porch
A Missouri man had an accident and injured his toe, unfortunately, he chose the wrong doctor, John Ure. John Ure decided to amputate the man's finger.
Ure's office is also a machine warehouse. No running water or even an exam table. And when Ure had the amputation, it was on the terrace. Ure said everything was sterile, and he did exactly what any doctor would do.
Medical records suggest that may not be true, as he wasn't even given antibiotics. But he did prescribe painkillers for two other patients in an inappropriate manner, all of which led to him losing his licence.
2. Make a Pot Cookies Recipe to a Misdiagnosed 4-Years-Old
William S. Eidleman, a Los Angeles "natural medicine doctor" was consulted by the parents of a four-year-old who had a tantrum. While on medication, Edelman gave the boy a pot cake made with marijuana.
The parents had actually followed the doctor's recommendations, but things went sideways when the boy asked the school nurse for more marijuana cookies in the middle of the day. The state medical board found that doctors had misdiagnosed the boy with ADHD and bi-polar disorder.
3. Filming Dance Videos while Surgery
Windell Davis-Boutte has viral fame as a dancing doctor, with YouTube videos showing her performing surgical procedures while dancing to popular music. She also had to pay nearly $200,000 back to patients who had never had surgery after he was embroiled in a scandal that saw his license revoked for more than two years.
While the dancing videos were questionable, especially because they sometimes involved apparently unconscious patients, it was the numerous malpractice charges that led to her license being withdrawn.
Patients claim that they experience multiple complications after the failed procedure, with one even claiming brain damage.
4. Drugging Pregnant Women to Induce Labor and Make More Money
Obstetrician Paul Shuen had developed a fuss that reaped huge financial rewards, and all he had to do was force women to give birth on the weekends even though it wasn't time yet.
He gives a drug called misoprostol to his patients without their knowledge or consent. It's used to induce labor, and she does it to try to ensure weekend births whenever possible.
One day in 2016, five different women showed up with a speedy delivery. He was caught when nurses started to find evidence of drugs inside the patient. But the process was slow, and Shuen had been doing this for years before his license was finally revoked.
5. Being Drunk and Committing Massive Fraud
Marco Antonio Chavez was a psychiatrist in San Diego when he lost his license to practice while drunk. The man wasn't drunk either; he was accused of drinking two 8-ounce glasses, or a liter of vodka mixed with cloves. That's a little more than the standard 10 shots.
In 2018, he claimed the drink he started at six in the morning was meant to make him stop drinking because it tasted so bad. In 2020, Chavez made headlines again for defrauding Tricare, a company that handles medical benefits for members of the military service. He was ordered to pay back more than $783,000.
6. Posting Racist Messages on social media Related to the Job
Lara Kollab worked at the Cleveland Clinic for just three months after someone drew their attention to a tweet made by Kollab. In a long-deleted tweet, Kollab spoke about deliberately prescribing the wrong drug to Jewish patients.
She lost her second home in California for submitting false or misleading information during the interview process. A year later, his license was permanently revoked and the ban on osteopathic medicine in Ohio.
7. Claim to Cure Ebola and Other Life-Threatening Diseases with Sound  
Ebola is one of the scariest diseases ever. It kills more than 90% of infected patients and it is not a pleasant experience. This disease causes cells to break down.
Doctor William Edwin Gray III's license was revoked. Gray claims to be a homeopath, but he graduated from Stanford Medical School in 1970. He sells cures for Ebola and other conditions on his personal website in the form of MP3 sound files. The patient pays $5.
Treatment doesn't even go up to homeopath level. He claims some crap on his website about how homeopathic remedies create groups of molecules that emit energy which can then be amplified and recorded as sound waves and that's what he's selling.
8. Branding Sex Slaves for a Cult
In 2021, Danielle Roberts' license was revoked for engaging in 12 forms of professional misconduct, including the use of an instrument intended to burn wounds to stamp the initials of the cult NXIVM leader into 17 different women who were used as sex slaves.
She marks as the cult leader, a woman who is serving a 120-year sentence on various charges. This imaging is also done without anesthesia which intentionally causes pain.
Her lawyer said the decision would be appealed because, in his capacity as a sex slave brander for the sect, he did not act as a medical professional so the rule did not apply to her in that case.
9. Installing Unnecessary Pacemakers
Health care fraud is a big deal two doctors are dealing with. Scams began to involve implanting things in humans, and that's exactly what happened in Kentucky with Anis Chalhoub.
Chalhoub not only lost his license; he was ordered to pay $250,000 and sentenced to more than three years in prison. His crime of giving people an unnecessary pacemaker.
In some cases, he told patients they would die if they didn't get a pacemaker when their condition wasn't fatal.
10. Declaring a Baby Dead when They Weren't
In 2013, a baby was born in a hospital in East China and was declared dead by a delivery doctor. Workers informed the hospital that the baby was still alive and was brought back for treatment.
Apparently, the child had a deformity of the respiratory system, and the hospital admitted to treating him for "humanitarian reasons". The doctor who declared him dead lost his license, and the story ended by explaining that the baby was in critical condition without further updates.
Halaman Selanjutnya
William S. Eidleman, a Los Angeles "natural medicine doctor" was consulted by the parents of a four-year-old who had a tantrum. While on medication, Edelman gave the boy a pot cake made with marijuana.