Six Active Faults in West Java Could Trigger Large Earthquakes
Kamis, 24 November 2022 - 18:27 WIB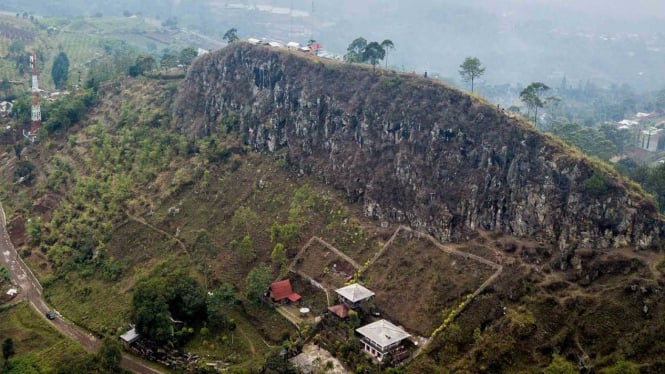 Foto udara Gunung Batu yang termasuk dalam sesar Lembang atau patahan Lembang di Kabupaten Bandung Barat, Jawa Barat, Selasa, 30 Oktober 2018.
Sumber :
ANTARA FOTO/Raisan Al Farisi
VIVA – The Cimandiri Fault activity in West Java is said to have triggered the 5.6 magnitude earthquake in Cianjur, West Java on Monday, November 21, 2022. BMKG said that earthquakes cannot occur in just any place. One of the locations where earthquakes usually occur is around faults. 
BMKG explains that a fault is the boundary plane between two fractions of the earth's crust that experience relative motion. Faults are usually relatively weak areas, that have cracks, or gaps. This is what caused Cianjur to be shaken by the earthquake, causing many casualties.
As it turns out, West Java has six active faults that have the potential for earthquakes although it cannot be predicted when they will occur. Starting from the Lembang to Baribis Faults, people around West Java should be aware of them. Here are some active faults in West Java, as reported by various sources.
1. Cimandiri Fault
The Cimandiri Fault is classified as active and stretches from Pelabuhan Ratu Bay to around Padalarang for approximately 100 km. This fault is the oldest and stretches from the mouth of the Cimandiri River in Pelabuhan Ratu, Sukabumi Regency.
The Cimandiri fault then runs northeast through Cianjur Regency, West Bandung Regency, and Subang Regency. Overall, it runs northeast-southwest with horizontal to oblique fault types.