Retrofit Conventional Motorcycles to Electric Gives More Benefits
Rabu, 30 November 2022 - 10:29 WIB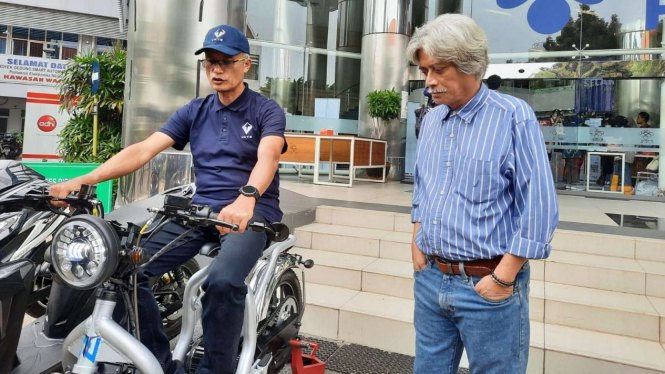 Dirut PT VKTR Gilarsi W Setijono bersama pihak PENS memamerkan sepeda motor yang diretrofit menjadi motor listrik.
Sumber :
VIVA/Nur Faishal (Surabaya)
VIVA – The VKTR President Director, Gilarsi W Setijono, said that retrofitting conventional motorcycles to electric motors is a solution for the government and society. Through this choice, there will be three benefits that can be gotten, namely reducing pollution, especially in urban areas, utilizing appropriate technology, and saving costs.
"This retrofit technology is not rocket science and is relatively easy to apply. Therefore, we are optimistic that the method we offer can be quickly accepted by the public at large and get full support from the government and the business world in particular," Gilarsi W Setijono remarked.
It was conveyed by Gilarsi in a Focus Group Discussion (FGD) with the theme "Pemetaan Potensi Membangun Industri Elektrifikasi Transportasi Indonesia' at Politeknik Elektronika Negeri, Surabaya (PENS) on Tuesday, November 29, 2022.
Gilarsi also explained the fact that Indonesia becomes third country with the most motorcycles users in the world now. Around 85 percent of Indonesian people have at least own one motorcycle and use it as their main transportation.
According to a survey conducted by the Indonesian Motorcycle Industry Association (AISI), Gilarsi explained that the total number of motorcycles in Indonesia currently reaches more than 80 million with 15 million of them used to pass through the city of Jakarta every day.
Both an opportunity and a challenge. To realize the electric vehicle industry, synergy and collaboration between parties are needed.
Halaman Selanjutnya
 "This industry needs to work together to collaborate so that the EV ecosystem can be built. If this continues, it will bring a very good industrial ecosystem," Gilarsi explained.