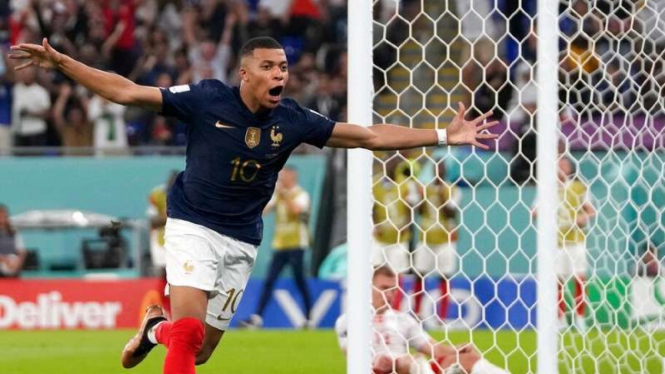 Striker Timnas Prancis, Kylian Mbappe rayakan gol
Sumber :
AP Photo/Thanassis Stavrakis
VIVA – The striker of France's National team, Kylian Mbappe, leads the 2022 World Cup Top Scorer List. He has five goals so far. Mbappe impressed in the game against Poland in the round of 16 on Sunday, December 4, 2022. Les Bleus ended the match with a score of 3-1
In the early match, Oliver Giroud managed to score the goal in the 44th minute, and the other two goals were scored by Kylian Mbappe in the 74th and 90'+1 minutes. Kylian Mbappe's two goals put him in the top temporary position in the Top Scorer list. He has five goals, two more than the other six competitors, so far.
The six players are Lionel Messi (Argentina), Enner Valencia (Ecuador), Marcus Rashford (England), Olivier Giroud (France), Cody Gakpo (Netherlands), and Alvaro Morata (Spain).
Well, here is the list of temporary top scorers of the 2022 World Cup:
5 goals
Kylian Mbappe (France)
Halaman Selanjutnya
3 goals