President Jokowi Will Announce Bauxite Raw Material Export Ban
Rabu, 7 Desember 2022 - 12:40 WIB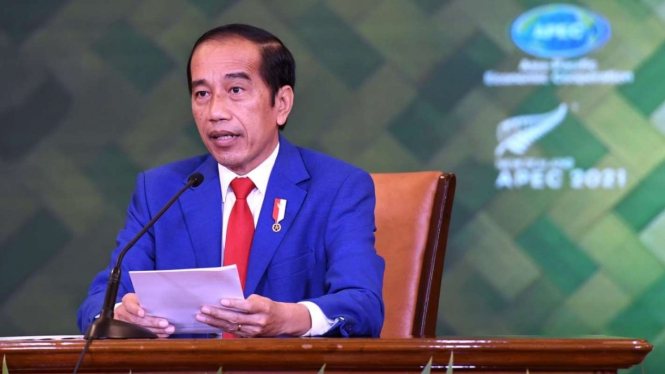 Presiden Jokowi di KTT Informal APEC 2021 Secara Virtual
Sumber :
Lukas - Biro Pers Sekretariat Presiden
VIVA – President Joko Widodo (Jokowi) revealed that he will announce a policy on banning the export of raw bauxite minerals soon. The President also emphasized the importance of down streaming mining owned by Indonesia.
After Indonesia has down-streamed nickel, Jokowi said that Indonesia will implement a policy to ban the export of bauxite in its raw state. It aims to add value to Indonesia from its mining materials.
In a Plenary Cabinet Meeting on the Estimation of Economic Conditions in 2023, Evaluation of COVID-19 Handling, and Anticipation of Food and Energy Crises, at the State Palace, President Jokowi said that increasing investment in the country is one of the keys to maintaining economic growth of Indonesia in 2023.
"This is related to increasing investment, because the key to economic growth in 2023 is related to consumption, and controlling inflation. Then, the increasing investment must be," Joko Widodo said on Tuesday, December 6, 2022.
Joko Widodo also said that increasing investment in Indonesia is non-negotiable. Through this, Jokowi will soon decide to ban the export of raw materials from bauxite.
"It is non-negotiable because it greatly affects our growth, so we will continue to do the downstream industry consistently. This morning, we talked about, after nickel, and after that, we talked about bauxite. And, soon we will decide when we will ban the export of raw materials from bauxite," Joko Widodo stated.
Halaman Selanjutnya
Jokowi is also optimistic this policy can boost Indonesia's economy and create a large number of jobs, which in turn will reduce unemployment.