Trade Minister Guarantees Stable Food Prices in Ramadhan 2023
Kamis, 23 Maret 2023 - 16:00 WIB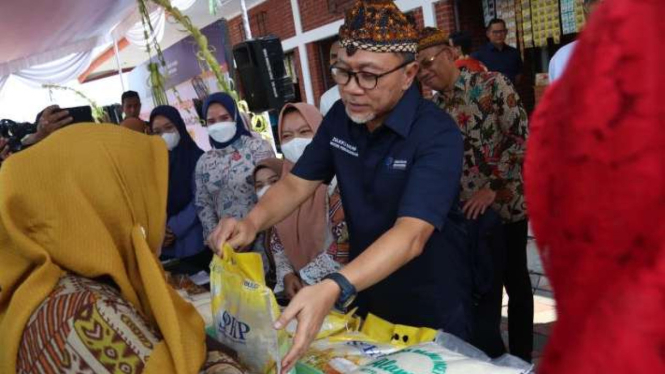 Menteri Perdagangan Zulkifli Hasan membagikan beras ke masyarakat usai meresmikan pasar rakyat dan tematik Ketidur, Kelurahan Surodinawan, Kota Mojokerto, Jawa Timur, Senin, 20 Maret 2023.
VIVA – Ramadhan 2023 has started on Thursday, March 23. The Indonesian Minister of Trade, Zulkifli Hasan guarantees that the price of primary food still stable during this holy month.
Minister Hasan said several food commodities were still stable in price before Ramadhan 2023, such as onions, chicken eggs, chicken meat, and Bulog rice in several places such as Surabaya, Mojokerto, and Mamuju.
"Onions are IDR 30,000 (per kg), chicken meat is still cheap at IDR 33,000 to IDR 35,000 (per kg). The market in Mojokerto is also still cheap, there are many goods," said Minister Hasan.
Not only that, but Minister Hasan also emphasized that there are still many stocks of MinyaKita in traditional markets. He deliberately did not distribute the subsidized fuel to modern retail or modern markets because it is intended for the lower middle class.
"If you search it in the marketplace, it doesn't exist, also in modern retail. We return it to the market first, because our oil is for the mothers. Once it was successful and famous, everyone was looking for MinyaKita, and eventually premium moved to MinyaKita. That is not enough, we have increased from 300 thousand tons to 400 thousand tons per month," he stated.
He hopes that the stability of food stocks and prices during Ramadhan and Lebaran 2023 can always be maintained. "So, we hope that during fasting and Eid, hopefully, everyone will pray, help us work hard so that availability and prices are affordable."
Halaman Selanjutnya
Based on the latest data from the National Strategic Food Price Information Center, food commodity prices on Wednesday have tended to fall in the last 3 days. Rice is Rp13,250 per kg. Chicken meat IDR 35,000 per kg, beef IDR 133,800 per kg, chicken eggs IDR 29,850 per kg.