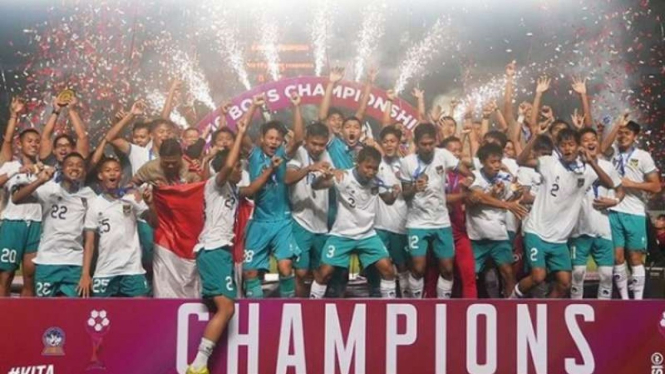 Timnas Indonesia U-16 juara Piala AFF U-16
VIVA – This week, some of the matches in world football take place on Friday, August 12, 2022, until the early hours of Saturday. Start from the duel of the AFF U-16 Cup, League 1 up to the continuation of the European Top League.
Indonesia won the 2022 AFF U-16 Cup after beating Vietnam 1-0 in the final match at the Maguwoharjo Stadium, Sleman.
At the last minute of first round, Kafiatur Rizky managed to score a goal. This goal became the only goal for Indonesia's victory. This victory became Indonesia's second title in the U-16 AFF Cup after 2018.
In addition, there are football matches from Europe's top leagues, such as matches from the Bundesliga, Ligue 1, and LaLiga.
From the Bundesliga, Borussia Dortmund succesfully beat Freiburg with a score of 3-1 at the Europa-Park Stadium. This victory continued Die Borussen's positive trend after a 1-0 win over Bayer Leverkusen in the first week.
Meanwhile, in LaLiga, Sevilla had to accept defeat to Osasuna at Estadio El Sadar with a score of 1-2.
So, here are the complete results of the football match from Friday, August 12, 2022, to Saturday, August 13, 2022, in the early hours of Indonesian time.
AFF U-16 Cup
Thailand 3-0 Myanmar
Vietnam 0-1 Indonesia
League 1
Persik Kediri 1-2 Borneo FC Samarinda
Ligue 1
Nantes 1-1 Lille
Bundesliga
Freiburg 1-3 Borussia Dortmund
LaLiga
Osasuna 2-1 Sevilla