Padang Has Typical Souvenirs Food, Have Delicious Taste
Jumat, 9 September 2022 - 14:28 WIB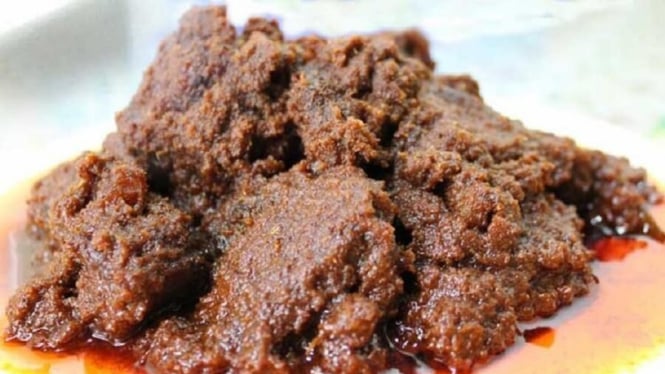 VIVA – Padang, West Sumatra is famous for its food characteristics that have a strong and delicious taste. Not only nature and historical tourism are beautiful to enjoy, but also the culinary delights that are suitable for souvenirs.
These typical souvenirs are often hunted by tourists because it has incomparable taste. Not only that, but this food gift seller also packs food beautifully and safely for long trips.
Well, here are some typical Padang food souvenirs that have a strong and delicious taste for the family to enjoy.
Rendang is a popular Padang food. Several variants of rendang can be purchased when visiting Padang, among others; beef rendang and egg rendang.
This food is suitable as a souvenir because it is durable. So, it is safe if people travel long distances. Rendang can also be processed into other forms of food.
One of the innovations of rendang is rendang bread. This food is also suitable as souvenirs typical of Padang. Rendang bread is bread filled with rendang.
2. Balado Chips
Balado chips are one of the typical Padang snacks that have a delicious taste. These Balado chips can be an option for souvenirs. The price of this snack is also not too expensive, and luckily, these Balado chips can last a long time.
3. Galamai
This typical Padang Galamai can be said to be similar to lunkhead or local people known as Dodol. The basic ingredients of Galamai are glutinous rice flour, peanuts, palm sugar, and coconut milk.
The thing that makes galamai different from dodol is peanuts which are used as the basic ingredient of the mixture. Meanwhile, when looking at the manufacturing process,
4. Jangek Crackers
Jangek crackers are commonly referred to as skin crackers. These typical Padang Jangek crackers are usually eaten with heavy food such as Meatballs, Fried Rice, Sate Padang, Soto, and others. This product itself is usually made of cowhide or buffalo skin that has been processed in such a way.
The shape of the jangek crackers itself is quite diverse. Starting from box-shaped crackers to squares that people can find in the area. The addition of spices on the outside of these crackers also makes this special snack even more attractive.
5. Dadiah
Dadiah is a food that is somewhat similar to yogurt. It's just that dadiah has a basic ingredient in the form of buffalo milk that has been processed in such a way.
The method of processing dadiah is also still traditional and free from modern touches. The fermentation process that makes dadiah has a unique taste.
Processed this one is also often referred to as a typical yogurt from Indonesia. Even because of its lactic acid content, dadiah is believed to be able to cure various types of diseases, such as cancer and cholesterol levels.
6. Rendang Shredded Chicken
In Padang, there are various types of processed rendang. One of them is Rendang Shredded Chicken. For Indonesians, this food is quite confusing. It turns out that for processed rendang, this one is made from chicken that has a shredded shape.
If people look at the view by this one, it is also fairly similar to shredded. Because it has high durability, this type of culinary is quite appropriate to be used as souvenirs. The abundance of spices makes this type of food even more delicious.
7. Karak Kaliang
Karak Kaliang is a cracker snack made from cassava flour and fried in the shape of a figure eight. With a simple seasoning of just salt and garlic, these crackers are guaranteed to make anyone who eats them addicted. People can get Karak Kaliang for only Rp5,000 for each pack.
8. Sanjai Chips
Sanjai chips are one of the typical souvenirs of Padang. The basic ingredient of Sanjai chips is cassava. There are three flavors of Sinjai chips, namely plain, salty, and Balado.
The name Sanjai on this snack comes from the name of the area where this snack is produced, namely Manggis Changeang Sanjai Village. The price of these chips is quite varied according to the size and taste selected. Visitors can adjust the amount to be purchased.
Halaman Selanjutnya
One of the innovations of rendang is rendang bread. This food is also suitable as souvenirs typical of Padang. Rendang bread is bread filled with rendang.