Live Streaming Football Schedule: Thailand vs Vietnam Today
Senin, 16 Januari 2023 - 16:20 WIB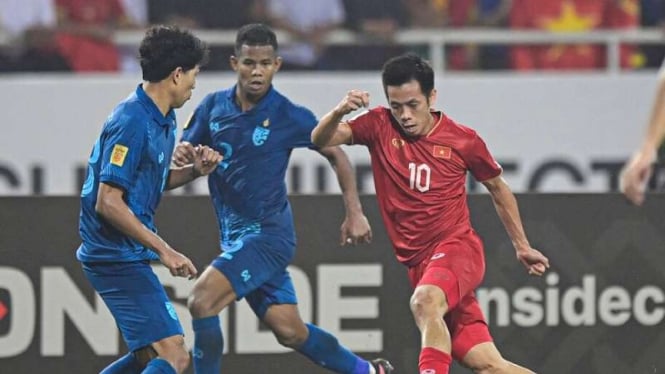 Duel Vietnam vs Thailand di leg 1 final Piala AFF 2022
Sumber :
AP Photo/Nguyen Manh Quan
VIVA – Schedule of live-streaming football today, Monday, January 16, 2023, will present the match of Thailand vs Vietnam in the 2022 AFF Championship. Both teams are going to meet at the Thammasat Stadium.
After the first leg at My Dinh Stadium, Hanoi on Friday ended in a 2-2 draw. Vietnam's two goals were scored by Nguyen Tien Linh and Vu Van Thanh. While Thailand's two goals were scored by Poramet Arjvirai and Sarach Yooyen.
The last time Vietnam met Thailand was in the semifinals of the previous edition of the AFF Cup. At that time, Vietnam was defeated by Thailand with a score of 0-2.
Thailand has collected six AFF Cup titles in 1996, 2000, 2002, 2014, 2016, and 2020.
While Vietnam has only won twice in the event between Southeast Asian countries, namely in 2008 and 2018.
Then, there will be another football match from the Indonesian League 1, RANS Nusantara vs PSIS Semarang at the Pakansari Stadium, Cibinong, Bogor.
Halaman Selanjutnya
Here's live streaming football schedule, for Monday, January 16, 2023: