Singapore Open 2022 Final Results: Indonesia Receives Three Wins
Senin, 18 Juli 2022 - 12:41 WIB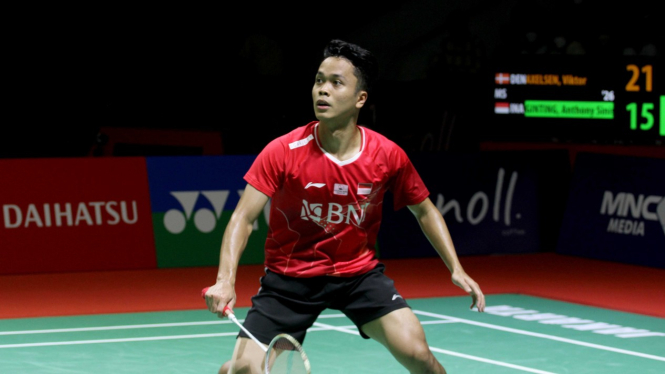 VIVA – The Singapore Open 2022 badminton tournament ended on Sunday, July 17, 2022. Indonesia has won three wins in the women's doubles, men's doubles and men's singles sectors.
The BWF World Tour super 500, Singapore Open 2022 featured some exciting and tense matches. Indonesian Women's Doubles, Apriyani Rahayu/Siti Fadia Silva Ramadhanti against Representatives of China, Zhang Shu Xian/Zheng Yu.
Zhang Shu/Zheng Yu's status as the fifth seed did not make Apriyani/Fadia feel mentally down.
With 39 minutes, Apriyani/Fadia managed to beat the Representative of China in two straight games with a point of 21-14 and 21-17.
It's the third title for Apriyani/Fadia that has just been paired this year. Previously, they won the 2021 SEA Games gold medal and won the Malaysia Open 2022.
In the men's doubles sector, Leo Rolly Carnando/Daniel Mathin won the victory after fight with Fajar Alfian/Muhammad Rian Ardianto.
Leo/Daniel succeeded against their senior, Fajar/Rian and won through the rubber game.
The third Indonesian representative to win was Anthony Sinisuka Ginting in the men's singles sector.
Ginting managed to defeat the Japanese representative, Kodai Naraoka. Ginting won two straight games with points 23-21 and 21-17.
This match was colored by Kodai Naraoka's strong drive and defense. However, it did not make Ginting feel afraid. He still plays hard and stong defense.
Anthony Ginting admitted that he had lost his best rhythm. At the Indonesia Open and Indonesia Masters 2022, he said that his confidence and his best game were starting to return.
It was proven at the Singapore Open 2022, Anthony Sinisuka Ginting managed to get the title of champion after his last win in 2020, at the Indonesia Masters.
Halaman Selanjutnya
Leo/Daniel succeeded against their senior, Fajar/Rian and won through the rubber game.