Signing MoU, Saudi Arabia Will Be the Host of MotoGP Race
Kamis, 8 September 2022 - 11:36 WIB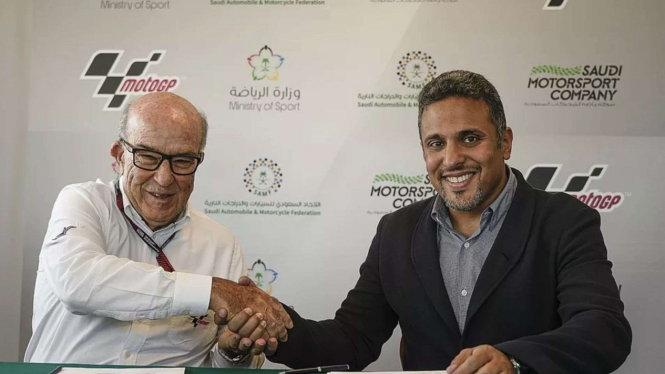 penandatanganan Nota Kesepakatan (MoU) antara Dorna Sports dan Saudi Motorsport
VIVA – Officially, Saudi Arabia will hold MotoGP race in the future. The MoU between Dorna Sports as the organizer and commercial rights holder of MotoGP and the Saudi Motorsport Company (SMC) have both signed.
Under the agreement, the world's premier motorcycle racing series, MotoGP, will be held in Saudi Arabia. The signing was carried out by the Chairman of the Federation of Automotive and Saudi Motorsport Company (SMC), Prince Khalid Bin Sultan Al Abdullah Al-Faisal, and CEO of Dorna Sports, Carmelo Ezpeleta.
The addition of Saudi Arabia to the MotoGP calendar allows this race to thrive in the Middle East. Previously, Qatar was the only MotoGP host in the Middle East.
It is inseparable from the Saudi Vision 2030, the Kingdom of Saudi Arabia (KSA) focuses on developing public service sectors such as education, infrastructure, recreation, and tourism.
This is to reduce dependence on petroleum by looking at MotoGP is watched by more than 800 million people, as well as directly by more than 200 countries around the world.
The plan to roll out MotoGP to Saudi Arabia follows the implementation of other global automotive sports series in Saudi Arabia. Previously, the Kingdom had successfully held the Saudi Arabian Formula 1 Grand Prix (since 2021), the Formula E Diriyah ePrix (since 2018), the Dakar Rally (since 2020), and the Extreme E series (since 2021).