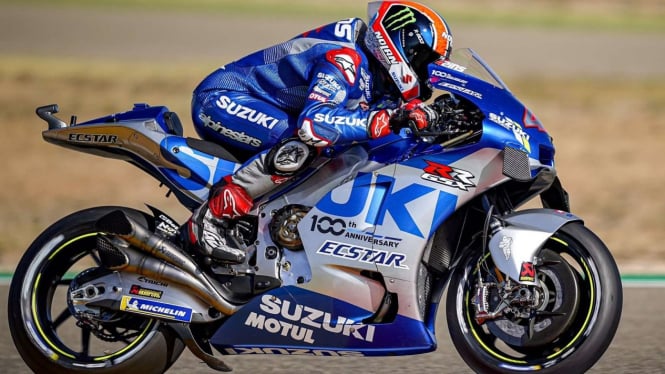 Pembalap Suzuki Ecstar, Alex Rins di MotoGP Aragon 2020
VIVA – MotoGP is entering its 14th series in Aragon and will continue until Friday, September 18, 2022. The excitement of racing between MotoGP racers can be watched on national television or streaming.
After the San Marino 2022 series is completed, the 2022 Aragon MotoGP race will be held at the Ciudad del Motor de Aragón Circuit, Spain next weekend. The race of the riders continues in the MotoGP event this season and is still ongoing after Francesco Bagnaia won the previous champion at the MotoGP San Marino 2022.
Francesco Bagnaia is closer than Fabio Quartararo for the title, just 30 points off the leaders. Francesco Bagnaia has won 6 races this season with a total of 181 points from 13 MotoGP 2022 series.
This Ducati Lenovo Team rider needs to maintain consistency in the front position to be able to finish in the top three and seize Quartararo's position as the leader of the standings.
For people who want to know more, here is the complete schedule for the Aragon 2022 MotoGP race: 
Friday, September 16, 2022
Halaman Selanjutnya
At 2.55 p.m to 3.40 p.m: FP1