Rishi Sunak and Wife Become One of Asia's Richest People 2022
Jumat, 25 November 2022 - 21:30 WIB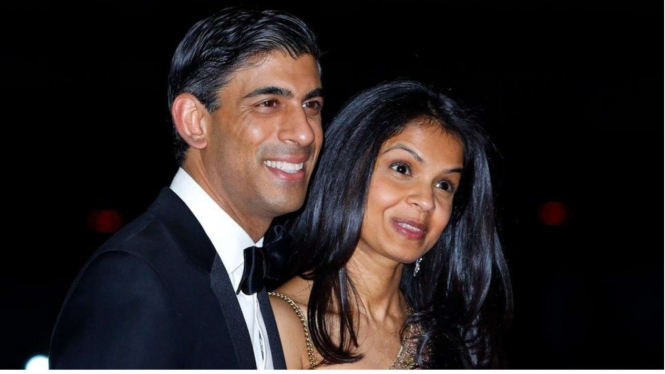 PM Inggris Baru, Rishi Sunak dan istrinya, Akshata Murty
VIVA – British Prime Minister Rishi Sunak and his wife Akshata Murty have made their debut on the UK's 'Asian Rich List 2022'.  They have an estimated wealth of £790 million. The Hinduja family tops the Asian Rich List for the eighth consecutive time with an estimated wealth of £30.5 billion or around IDR 579 trillion.
The Mayor of London, Sadiq Khan, presented a copy of the 'Asian Rich List 2022' to Ritu Chhabria, daughter of Gopichand Hinduja, Co-Chairman of Hinduja Group at the 24th annual Asian Business Awards at the Westminster Park Plaza hotel on Wednesday evening, November 23, 2022.
Hinduja Group is an Indian transnational conglomerate. The group is present in eleven sectors. Addressing the gathering, Chief Guest Oliver Dowden, MP, Chancellor of Lancaster from the Netherlands said that every year, he sees the UK Asian Community continue to grow rapidly, as reported by NDTV, Friday, November 25, 2022.
"Throughout my life, I have seen first-hand the hard work, determination, and entrepreneurship of the British Asian community. And, of course, in my last job, I had as my Asian British Boss, my good friend Rishi Sunak, the first Asian British Prime Minister," Dowden remarked.
Rishi Sunak made an impressive return to the British government by becoming the first Prime Minister of Indian origin in the UK on October 25, 2022. He also became the youngest British Prime Minister in 210 years, and Britain's first Hindu Prime Minister.
"I want to say thank you. The British Asian business community is widely recognized as one of the most successful entrepreneurial groups ever. It is a remarkable story of building businesses, creating jobs, and accumulating wealth. And as outlined in this year's Asian Rich List, Asian entrepreneurs have enriched Britain in all aspects of our national life," Dowden explained.
Halaman Selanjutnya
This year's Asian Rich List features 16 billionaires from the UK, with most billionaires seeing their wealth increase or remain the same as last year.