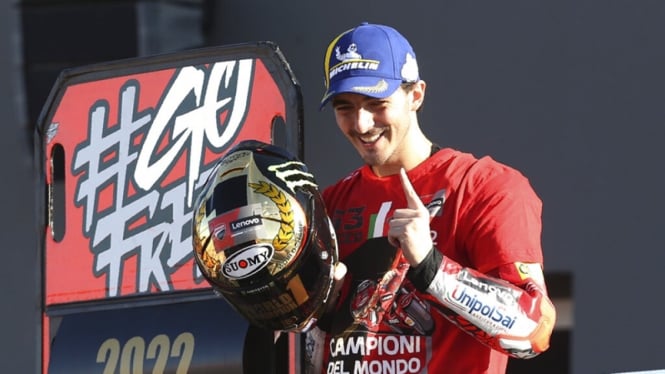 Francesco Bagnaia juara MotoGP 2022
VIVA – MotoGP racers are usually charismatic and can attract the attention of the public. It turns out that some of these racers have unique nicknames. One of them is Valentino Rossi. Usually, this legendary racer is called "The Doctor", "Rossifumi", and "Valentinik".
As quoted from various sources, the unique nickname "The Doctor" has a meaning in Italy for someone who has expertise. Including Valentino Rossi's expertise in riding a motorcycle in the prestigious Motorcycle Grand Prix race. Well, here is a list of MotoGP racers who have unusual nicknames.
Team Suzuki Ecstar racer who has the nickname "The Bakery". This nickname refers to a bakery that produces staple foods for people to live on. The Bakery nickname was even applied to the rider's helmet design for the 2017 racing season.
2. Andrea Dovizioso
Halaman Selanjutnya
The Yamaha RNF MotoGP Team racer was once nicknamed "Little Dragon". Finally, Andrea Dovizioso enjoyed the nickname "Undaunted" in MotoGP 2020 which means "not easy to give up" after previously also having the nickname "Desmodovi" with the Ducati Lenovo team.